September. The year is two thirds over and a new season has begun. Whether its a season of new beginnings or harvests, it's an opportunity to stop and give some thought to what's in store for the next three months and to set some intentions.
Blogging
One of the biggest projects on my agenda for this season is to grow my blog. I started Smart Money, Simple Life as a way to share what I learn on my path to becoming more self-reliant and financially independent. My frugal adventure is in full swing, as is changing what I do to earn a living. It's a slow process moving from one form of self employment to another and I readily admit there have been times I've been ready to throw in the towel. But, I have a vision of the way I want to live my life and earn my living and this little blog is becoming a big part of that.
I still have a lot to learn so if you have any hints, tips or suggestions for adding value to Smart Money, Simple Life, please let me know in the comments.
Related Posts
Do You Dare Follow Your Dream?
When You Work from Home, Weekends Matter
Why You Should Eat Frogs for Breakfast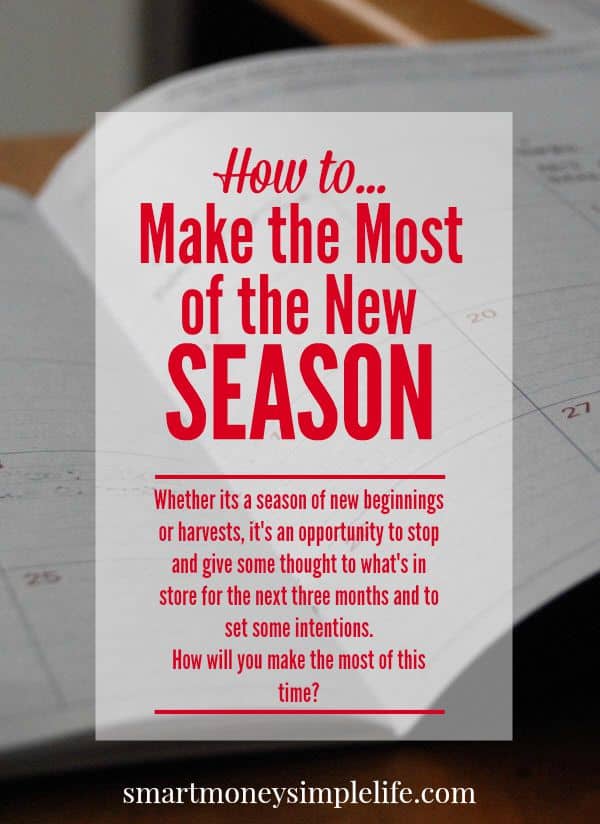 Selling
The process of scaling back my online business to just two platforms is mostly complete. It's created some challenges of its own though. Erratic income being the biggest one. One thing no-one mentions when they talk about starting and running an online retail business is the amount of time it takes. No platform will provide continued good exposure for your product if you take a set and forget approach to your listings. So, as I've been dedicating more time to other projects lately, the online sales have suffered. This, I'm a little embarrassed to admit has tipped me into the red. Not my favourite colour.
While my ultimate goal is to convert my full-time online business back into my side hustle, it will require some time and attention over the next few months to ensure it continues to pay the bills while I get my other projects off the ground. More on those other projects soon…
Related Posts
How to Sell on eBay and Not Get Scammed
June Goals – Simplify, Streamline and Sell Stuff
Gardening
The new season for us, in the southern hemisphere, is spring so of course gardening will loom large on the projects agenda for the next three months. Gardening is also a great little side hustle for me.
There are plenty of lemons on the trees so the blackboard is out by the roadside, plus plants I've propagated and a big ol' plant pot full of freshly picked lemons. I figure every bit of cash helps plus, there is no way I could possibly use all the lemons on the two very large trees in my yard. Waste not want not!
My favourite way to use the lemons is to make lemon cordial, you can find the recipe I use here, it's tasty and refreshing with either water or soda water added. If you have access to lemons, give it a try.
Selling produce and plants at my garden gate is not likely to ever make me rich but there's a good deal of satisfaction that comes from turning products of a hobby, into cash. You never know though, I might create the next Mortgage Lifter Tomato and pay off my mortgage, too.
It's spring so I'll also be working on my kitchen garden. The more fruit and vegetables I can grow for myself, the less money I spend and the more I have to put to paying down debt and getting back in the black. Plus, it's fresh and chemical free. Win, win, win!
Related Posts
Cultivating Extra Income Streams
How to Grow Your Own Food, Even If You Live in an Apartment
Frugal Gardening – How to Start a Vegetable Garden on a Budget
Pinterest – Harvest Recipes: Lemons
It was the perfect spring day here today. Mild. Sunny. Busy. It's hard not to be busy when the air is abuzz with bees. The weeds are on a mission for world domination and the possibilities, in the garden and elsewhere, are endless.
The start of a new season is a great time to shift gears, set intentions and make the most of nature's rhythms.
How will you use this time to your best advantage?