Are you frugal or a cheapskate? You might think the two labels are interchangeable, but I'm not so sure. The difference, as I see it is – do you look for value when you have to spend your hard earned cash or do you just look at price?
There's a huge difference in mindset between being frugal and being a cheapskate. Firstly, choosing to focus on price alone is a short term investment. When you just focus on price, you're only asking yourself one question: what's it going to cost me right now?
A frugal approach takes a longer view. It's not just a matter of what will it cost me now? it's also focused on these sorts of questions:
How long do I need it?
How long will it last?
Can it be repaired?
A Frugal Example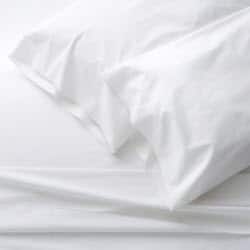 Obviously, your own values and likes or dislikes come into play here, too. Here's an example: I have a thing about bed linen. If I'm spending eight hours (hopefully) tucked up in it, it had better feel fantastic. So, I go for the absolute best quality I can afford. My current bed linen is white,  hotel quality and 1000 thread count. It's thick and soft and I've been using it for about five years. Was it expensive? Yes! But here's where the frugal bit comes in, I bought the sheet set for $99.00 – less than one third of its usual retail price. And, once I knew it was what I wanted, I bought a second set at the same price. So far, this bed linen is showing no signs of wear and tear. None. Plus, they're white so they'll never go out of fashion and I'll never get sick of them. I figure the two sets could conceivably last for 20 years. That's $10 per year for the most amazing quality sheets. That's frugal!
A Cheapskate Example
I can be a cheapskate, too. I drink tea and coffee each day. I use tea bags. I drink filtered coffee. I'm not a connoisseur of either therefore my main criteria for choosing tea and coffee is the price point. So, I buy no-name tea bags from the supermarket (and put them in a nice jar) and either ground coffee or beans from Aldi. I guess if I really didn't care about coffee I could drink instant but, given my daily filtered coffee habit tallies up at less than 50 cents a day… I reckon it's still well within the cheapskate realm.
Frugal, Cheapskate or a Bit of Both?
When you make purchasing decisions what criteria do you use? Price or value? Short term or long term? Disposable or heirloom? Sometimes, you need to consider both options when making a purchase. Do you really need to buy the name brand oatmeal when the no-name version is the same product, just different packaging at four times the price? Sometimes, though, you get what you pay for so it's worth finding the best quality at the best price. It might take some work in the short term but will prove to be a wise long term investment.
Which one are you, frugal or cheapskate or a bit of both?
Image source: http://www.1000threadcount-sheets.com.au