In today's often dodgy job economy, many of us have to take a very deep breath before entering the final characters of our bank app password. And, often upon doing so, the digits we find after logging in can be enough to send you right over the edge — or straight to the Internet to look for quick ways to make enough money to cover the rent or mortgage, the utilities, and for some of us, the cost of homeschooling supplies and classes, and exorbitant electricity bills associated with working and schooling from home.
Between student loans, keeping the lights on, and trying to keep up with credit card debt, you, like millions of others, may be on the hunt for a quick buck made the honest way. In fact, a recent article in Yahoo! Finance reveals that just under 70 percent of all Americans have less than $1,000 in savings, while another 45 percent of this same group revealed that they have literally zero dollars in any savings account anywhere.
Making Money Fast
In a pinch like this, it is obvious that most Americans are in dire need of a fast and easy way to make money — and a lot of it. So, what are some things that you can do to earn about a thousand smackaroos fast enough to get the rent paid on time and to keep yourself from falling behind in your credit card payments?
Let's take a look at 10 totally different ways you can pretty easily earn a cool grand — and fast!
1. Put Your Out-of-Use Vehicle Up For Rent
While you're sleeping, working from home, or in times when you simply are not making use of your car, truck, van, or other type of vehicle, it could be out there in these streets earning you some cold, hard scratch. And not to worry, in a method similar to how Uber and Lyft work, your auto will be insured by the car-share companies that utilize your vehicle, such as HyreCar, Turo, and Getaround. And, just as with Uber and Lyft, you'll have an app on your phone that shows exactly when, where, and what your vehicle is being put to use for.
Given that the average driver is using his or her automobile just two to maybe three hours per day each week, if you were to rent your car out for just 30 hours in a seven-day period, you could be earning between $600 and $1200 per month, depending on the vehicle type and condition.
2. Rent a Spare Room in Your Home on Airbnb
Many people labor under the misconception that you have to have an entire home to rent out if you want to create a listing on Airbnb — not so! In fact, all you actually need is a single bedroom. These types of single-room rentals are actually quite popular on Airbnb, and it is a great way to passively earn a tidy little bundle each month.
What's more, becoming an Airbnb host does not require a herculean effort on your part; all you need to do is head to their website, create an account, create the listing for your room, set the price for the listing based on the size of the room and any amenities you can offer, snap a few photos, and oula.
An important thing to keep in mind is that you can always request more for your listing during holidays, high tourist season periods, and during times when things like the Super Bowl are in town, as just a few examples. You can rent out your room for as short or as long a period as you like, upping your chances of making even more by keeping it occupied for as much of the time as possible.
This sweet little side hustle could earn you upwards of $1000 in just a week's time depending on what your place has to offer, and once you start to amass good reviews, you can earn even more.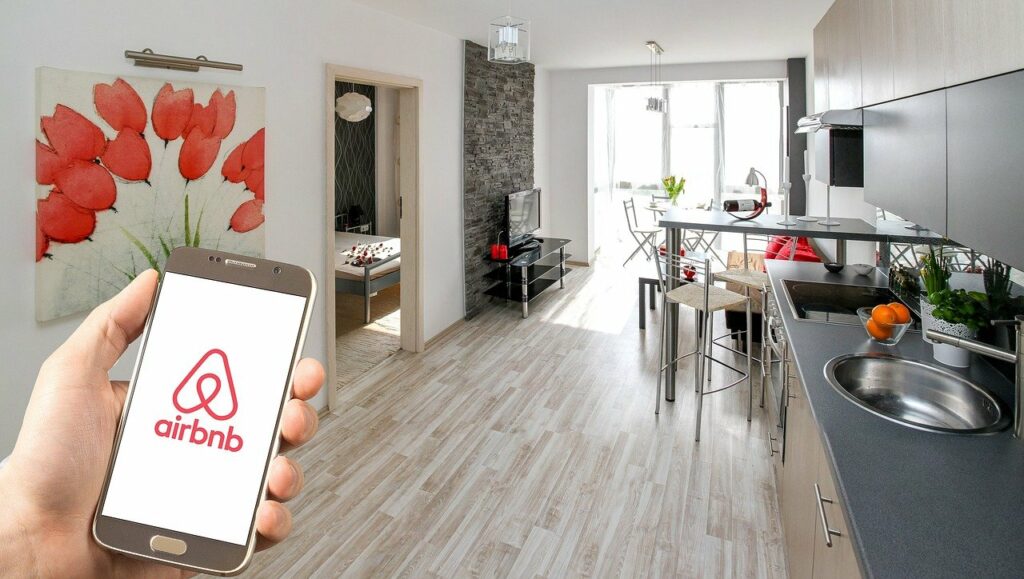 Pin
3. No Room to Rent on Airbnb? Rent an Experience Instead!
So few people are aware that in their spare time they could be making money on bundled or singular packages offering tours of all kinds of things in their respective areas. The local butterfly refuge, art museum, artwalk, farmer's market, aquarium, science museum, local sporting events, concerts, and festivals are just a few of the activities you can host for out-of-towners eager to learn about the area, and eager to have a host who knows and understands the local mores and ways to get around and appreciate the culture.
When you host an Airbnb Experience, you can create fun, entertaining, and ultimately memorable experiences for those who hire you, and in so doing, you can earn between about $2000 and $3000 just in your spare time on the weekends, holidays, and evenings.
4. Create a Live or Asynchronous Learning Experience for Adults or Children
Not to worry, there's no teaching degree required if you want to teach folks how to do something you're an expert at, regardless of what that might be. Whether you know how to set up a YouTube channel or how to teach kids the basics of karate, how to make the best salads on the planet or how to create the most livable home spaces through interior design, you can set up both on-demand and live video classes offering your knowledge to those who are hungry for it.
The best-known platforms for this type of knowledge sharing are Teachable and Outschool, but you can also cruise around the Internet in search of others to determine which will give you the highest rate of pay and the most bang for the buck for the work you are putting into the process.
Getting things set up is relatively easy — you will simply create a channel for yourself, determine whether you want to teach in real-time or offer asynchronous learning opportunities through pre-recorded fare, and get to work. These types of platforms are equipped with things like screen sharing and in-screen images, as well as subtitles and more to make your video experience the best it can be for your learners of any age.
How much money you make will largely be determined by how you set your prices for each of your video experiences or for bundled courses on your channel. But, with this said, you can easily earn hundreds of dollars a month if what you are teaching is in high demand, and likely even more if you spend a few extra bucks advertising your channel or courses on the home page of the main website where your courses are available.
5. Become a Virtual Assistant in Your Spare Time
Becoming a virtual assistant can be highly lucrative, especially if you are great at helping to keep people organized, on task, and feeling good about themselves through kindness and affirmation. By offering everything from scheduling and meeting set-ups to other administrative tasks, data entry, technical support, and even project management, you can offer your skills to as many people as you have the time to manage each week.
For a few more ideas on what you can offer as a virtual assistant, here is a list of more than 150 things you can do for the people who need just such assistance in their lives, but who may not need or want a human being following them around all day every day in their actual day-to-day lives. What's more, how you package what you offer can make a big difference in how much money you make, so be sure to illustrate your strengths in your profile, create assistance packages that make the most sense for the audience you are targeting, and make sure you are using good common sense to pair different tasks you are capable of together in packages.
With so many small businesses and entrepreneurs now taking advantage of virtual assistants these days, you can earn upwards of $25 per hour offering people the skills you are already quite adept at. And in fact, if you become popular enough, you may find that this goes from being your side hustle to your main gig in a relatively short period of time.
6. Become a Pet Sitter On an App or For Yourself
If you want to make $1,000 fast, one of the most highly in-demand jobs you can take on today is pet sitting. Whether you strike out on your own through online advertising or make use of an app like Rover, which is geared specifically to hooking up pet owners with pet sitters, you can easily hit your target of $1,000 pretty darn fast. And, as with anything else, the more you make yourself available during peak hours, nights, weekends, and holidays, the more money you will make more quickly.
Setting up a profile on a site like Rover is pretty straightforward. If you have an existing pet sitting business, you can mention this in your profile and even have your existing clients write flattering reviews of you to draw in even more clientele. And, if you want to make even more money, make yourself flexible by offering to watch pets at your place or their place, as different clients are going to be more comfortable with different things.
Offer Full Stays
You can also offer full stays with pets for much more money, as this ensures the pet(s) are never alone, but you can easily also offer doggie and kitty daycare, simple drop-ins, dog walking on a daily basis when people are out during the weekdays, and more. And, if you want to make it even more lucrative, once you get to know your clients, you can let them know you offer other services, like plant watering, mail pick-up, or even house cleaning while they are out on vacation or just at work for the day. You're already there, right?
With apps like Rover, or even as your own boss, you will set your own rates, so make sure to price yourself competitively — you don't want to price yourself too low, as this can seem suspect, but likewise, you don't want to set prices so high that you price yourself out of the game. Shoot to make about $1,000 per month in the time you have and your prices should hit a good target.
7. Become a Freelance Writer Using Guru or Even Craigslist
Today, tens of thousands of companies need freelance writers for a whole host of content needs, including blogs, newsletters, white papers, infographics, webpage content, and case studies, just to name a few. And, while it is true that you should have the basics down and be a decent writer, you do not by any means need to have a writing or journalism degree or any degree for that matter. What most people are looking for when they want to hire a writer are samples of your work, so as long as you have five to 10 decent examples of the work you have done, you can usually find work as an online content writer.
Some of the best places to get started are Guru, where writers are hired for various projects by the clients who need them completed, or on Upwork, where different clients can be bid on by the writers who want to work on various projects they see listed on the job boards available here.
One important thing to note is that you should never pay a service to become a writer. These services are often scams, asking for $100 or more to "get you started with our program." Trust us when we tell you, the demand for content writers is so high right now that as long as you use the correct avenues, you can easily make the $1,000 you came to this article looking for without paying someone to help lead the way.
If you are a savvy writer already, and already have plenty of samples to show people, you can even strike out on your own looking for work on Craigslist. Simply head to the "Gigs" section of the website, and then click on "Writing" under this section to find tons of writing jobs all over the world.
And here's another helpful hint: if you live in a small town or other area where writing is not in that high of demand, head to Craigslist NYC, San Francisco, or Los Angeles. Most people hiring freelance writers won't care where you are located as long as your work is good, there is more work available in these types of places, and the going rate for work is going to be higher as well, ensuring that you'll not only have more work, but that you'll likely be paid better to do it.
8. Sell Your Skills as a Freelance Anything on Fiverr
If you are not yet aware of Fiverr, you should be. On this website (now also an app for those of you who have not visited in a while), you can literally sell anything you can do. From writing and graphic design to writing poems, singing ad jingles, painting watercolors, creating magnets for small businesses, or even making paper flowers for unforgettable anniversary gifts, Fiverr offers everything under the sun. You can sell your technical skills too: social media management, setting up Google reviews, creating Amazon storefronts for people, and so much more.
And, the name Fiverr is now a bit of a misnomer — true, in the early days, all jobs were set up to be sold for a cool five buck a pop. But in the latest iterations of the site, you can now sell any job for just about any price, as long as it is in increments of five dollars. So, you could create a company logo for $150, a company slogan for $25, or write a company proposal for $300, just to give you an idea of how it works.
Fiverr will take a fee for hosting you on their site, but for most people there, it's entirely worth it, because Fiverr puts you on the world stage and makes you eminently more visible than you would be on your own. And another bonus? The better you are at what you do, the better your reviews will be, and Fiverr is heavily driven by client reviews because clients must at a minimum rate your service with stars (one through five), but in most cases, happy customers will leave very flattering feedback, which immensely helps in building your business there.
9. Become an Online Tutor
Today, you can tutor children and college students online, which is of course safer these days, all things considered. Whether you're good at math or language arts, calculus or geography, there are always students out there looking for help, and because they only typically need a few hours of your time each week, it can be a great way to cover your financial bases without a huge time commitment on your part.
What's more, tutors are typically paid pretty well — usually anywhere from about $25 to $50 per hour. So by just tutoring 20 to 40 hours per month, you will earn that $1,000 per month you were after.
Some of the best places to get started with a tutoring career are Care.com and Preply, as these sites will allow you to set up a profile for yourself, set your own rate, and even allow you to receive reviews from the parents and students who have had great experiences with you.
10. Ask for a Raise at Your Day Job
This one is last for a reason. Most people are mortified by the mere idea of asking for a raise at work. But if you are good at what you do, have been loyal to your company, and have made yourself invaluable to your superiors and coworkers, you have every right to ask for more money because you have literally earned it.
And, by asking for just a single dollar raise in pay, if you work full-time (just 40 hours per week and no more), you'll increase your yearly revenue at that single job by $2,000 per year. That will easily cover most utilities, or if you want to look at it a different way, it could help to dramatically offset the taxes you're paying on what you already earn. But, there's also the high likelihood that you deserve — and have the leverage to ask for — more than just a dollar per hour raise, and this will add up to even more over time, obviously.
If you are fearful to ask for a raise, just don't know how to do it, or if you aren't entirely sure you deserve it (you do!), here are a few helpful hints that will help you set up that talk with your boss.
Be Creative and Get Started Today
Earning an extra $1,000 per month is not as hard as you may think it is, but there are dozens and dozens of other ways to do it aside from what we have listed here. The main thing is to get out of the box with your thinking and start considering the fact that we are no longer living in the world our parents or grandparents grew up in where people worked the same job for 40 years and retired on a pension.
In today's world, you have to learn to look out for yourself, and when you are just getting started, or if you have recently lost a job, there are multiple different ways to get back on your feet in the interim or ways to earn more than what you are making at your day job. And, if you already have a hobby you love, like writing, drawing, painting, or you just love hanging out with animals, these are all ways you can now make money, too.