Cable TV has been losing popularity rapidly over the last decade. With all kinds of streaming options available, people can control what they watch on TV at any time. There's hardly a reason for cable anymore! Still, cable companies continue to bundle internet access with cable TV and landline phone subscriptions, technologies we no longer want. How can we get internet without all these strings attached?
Don't worry, there are many options available. You don't have to do a bunch of research either. Luckily, we're here to narrow down ten places where you can get internet without a cable subscription. Only purchase the services that you want, and don't spend money on something that you won't use. Look through our options and find something that works for you.
Table of Contents
Boost Mobile
Boost Mobile provides internet via a mobile hotspot. These are mobile internet networks that convert LTE connections into Wi-Fi signals that devices such as laptops, computers, tablets, and more can connect to. Boost Mobile has many benefits, including:
No annual service contracts: You don't have to lock into a service for a long period of time. If you don't like your service, you can switch whenever you like.
Unlimited data: You can purchase data packs to increase your data until it's unlimited.
99% nationwide coverage: Boost Mobile covers you in 99% of the country, so you can take your internet anywhere.
If you're interested in getting started with Boost Mobile, check out their mobile hotspot data plans here.
CenturyLink
CenturyLink offers internet plans starting at just $50 per month. It does not use a hotspot like Boost Mobile, which may be beneficial if you have a lot of devices that connect to Wi-Fi. Other benefits of CenturyLink include:
No annual contracts: You're not locked in with CenturyLink. You can change your service at any time.
Unlimited Data: You get unlimited data with CenturyLink, it's just a matter of how fast you want your internet to go.
One Device: Your modem and router are all in one device so you don't have to have two clunky, expensive devices to worry about.
CenturyLink App: You can control all of your internet needs with CenturyLink's easy-to-use app.
Security: Security, privacy, and parental tools are built into most modems.

Pin
CenturyLink is currently available in 36 US states, so check availability in yours by going to their website.
Google Fiber
Google Fiber is not widely available yet, but it is quickly expanding. As of right now, it is available in 51 cities including the following:
Kansas City, Kansas
Jackson, Missouri
Kansas City, Missouri
Charlotte, North Carolina,
Raleigh, North Carolina
Nashville, Tennessee
Austin, Texas
San Antonio, Texas
Provo, Utah
Salt Lake City, Utah
Google Fiber offers a variety of benefits:
Keep your router: If you have a router that you already love, you can continue to use it.
Multiple plans available: Fiber offers a 1 gig and 2 gig plan, depending on how much Wi-fi access you need and how many devices you connect.
No annual contracts: Like the other options on this list, Google does not lock you into an annual contract.
Multiple Wi-Fi points: Set up multiple wi-fi points in your house to create a seamless wi-fi network throughout your entire home.

Pin
To get started with Google Fiber, check out their website today.
DSL Extreme
DSL Extreme is available in several different states, including California, Florida, Michigan, Nevada, Alabama, Wisconsin, Missouri, South Carolina, and more. They offer TrueStream internet packages, which covers a lot of different packages that they offer. Before we break down their packages, let's explain the benefits of TrueStream:
Extremely fast internet: TrueStream uses a "digital lightning fast network" to create fast, reliable connections that ensure you remain online.
Unlimited bandwidth: You stay connected no matter what you're doing, whether you're streaming videos or chatting with friends.
Wi-Fi network: You have a wi-fi network to connect multiple devices to so you can use all kinds of devices at once.
Now that we've outlined their overall benefits, let's break down their plans:
Express: Express offers 1.5 Mbps of speed at $24.95 per month, with an upload speed of 384 kbps. This is not a very fast internet speed, but it works as a bare minimum if you're on a budget.
Pro 3.0: Pro 3.0 offers 3.0 Mbps of speed at $24.95 per month, with an upload speed of 512 kbps. This is a bit faster than Express.
Elite: Elite offers 7.1 Mbps of speed at $44.95 per month, and is much faster than the other two plans. It is the recommended plan for people who stream and work from home.
Be sure to reach out to a representative to discuss what plans are available in your area, as they may be different than what's listed here. You can find DSL Extreme online here.
Frontier Communications
Frontier Communications offers services all over the country. They offer a couple of different plans if you only want Internet service. Like before, we will break down the benefits of Frontier before getting into their plans.
Unlimited data: You can use as much data as you like with Frontier's plans without worrying about going over.
Bonuses: You can get bonuses such as whole-home Wi-Fi, a free router, and unlimited browsing.
24/7/365 support: Whenever you need support, Frontier has someone available to help you.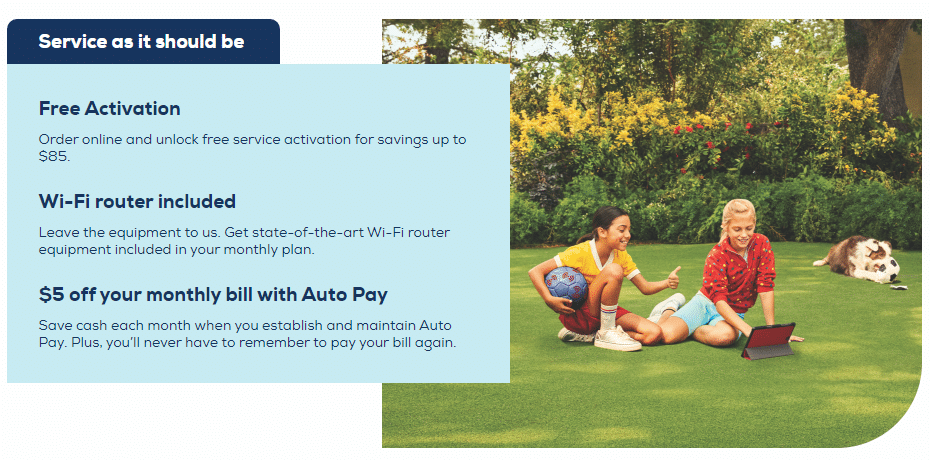 Pin
Now we will go over some of Frontier's available plans. Keep in mind that these plans may be different in your area, so always reach out to an expert before making a final decision.
Simply Broadband Core: This plan costs $20 per month and gives you internet up to 6 Mbps with a free Wi-Fi router. You do commit to two years, however. This is a good plan for people who use the internet lightly.
Simply Internet Ultra: This is another 2-year contract that costs $25 per month with internet speeds of up to 12 Mbps. This is a good plan for users who like to play games or stream.
Simply Internet Elite: This plan is a 2-year contract like the others, except you get 24 Mbps for $40 per month. This plan is perfect for those who need the most out of their internet service.
Reach out to Frontier and see what plans are available in your location today. Be sure to stay updated, as internet companies like Frontier are expanding all the time!
Xfinity
Xfinity by Comcast is available in several different cities around the US. Their Wi-Fi offers a variety of different benefits including the following:
Reliable connection: Everyone can stay connected even when there are multiple devices online.
Fast speeds: Some of the fastest Wi-Fi speeds on the market, so you can do everything that you need to.
Security: You can protect your devices with Advanced Security
Free Flex 4K streaming box: With this free streaming box, you get Peacock premium and Xumo, along with other streaming services.
Xfinity has a variety of plans available, which come at different prices. We will go over those plans below.
Performance Starter +: For $19.99 per month, you can get internet speeds of 50 Mbps. This is good for 4 devices at a time, downloading music or photos, and basic streaming and video conferencing.
Blast! Pro +: This plan gets you 400 Mbps for $64.99 per month. You can connect up to 11 devices at a time, and it is perfect for downloading shows quickly and streaming in HD. With this plan, you also get a $50 prepaid Visa.
Gigabit: This plan comes with 1200 Mbps for $84.99 per month. With these speeds, you can use unlimited devices, download unlimited shows and movies, and connect your whole household. This plan comes with a $100 prepaid Visa.
Xfinity just might have the plan for you. Check out what they have to offer on their website.
WOW Internet
WOW Internet offers services in many states, including the following:
Alabama
Georgia
Indian
Ohio
South Carolina
Florida
Illinois
Michigan
Tennessee
What puts the WOW in WOW Internet? They boast these features:
No Contracts: WOW Internet doesn't lock you into long-term contracts like a lot of their competitors.
Next-Day Installation: You won't have to wait a long time for your internet. You can get it installed right away with WOW's next day installation.
30-Day Money-Back Guarantee: WOW offers your money back within 30 days if you're not satisfied with your service.
Award-Winning Customer Service: WOW has excellent customer service representatives who can help you out whenever you have problems with your internet.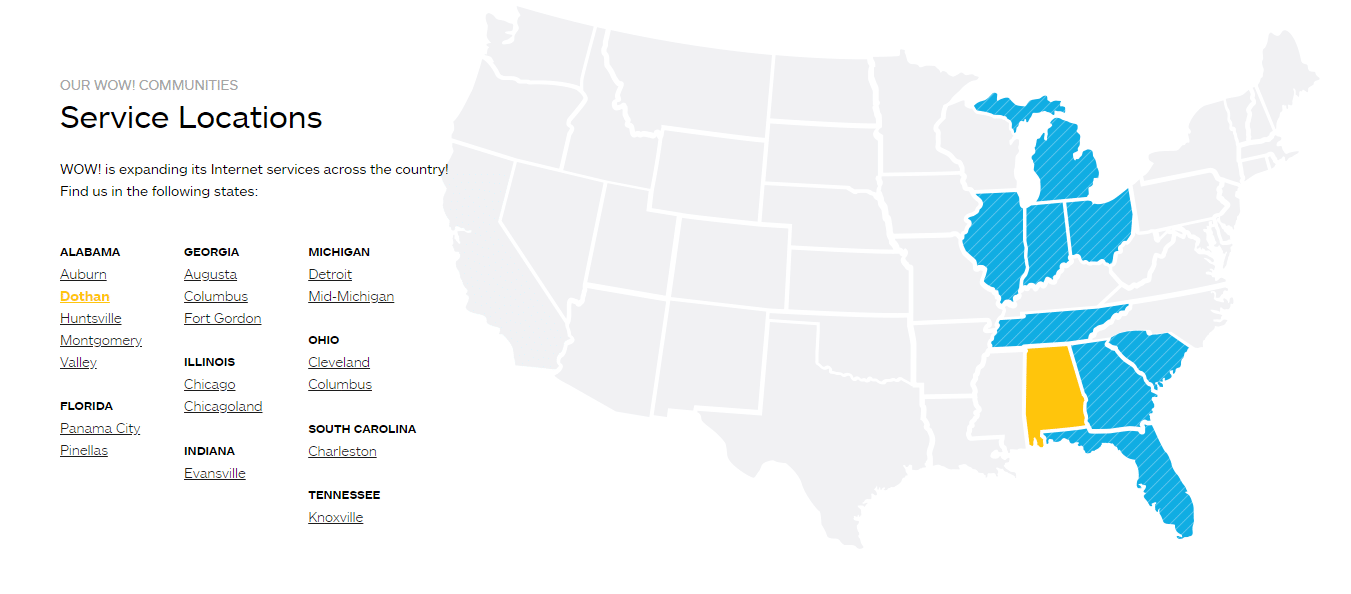 Pin
WOW Internet offers four different tiers of plan. Here are the plans that are available in Dothan, Alabama. Keep in mind that these plans may be different in your location.
$19.99: For this price you can get internet speeds of up to 100 Mbps. This is best for streaming TV, surfing the web, and using social media.
$29.99: This price gives you 200 Mbps speeds, giving you a speed boost when you're streaming TV, surfing the web, or using social media. This tier also comes with a $200 prepaid Visa.
$44.99: At this price, you get internet speeds of up to 500 Mbps and a $200 prepaid Visa. This tier is perfect for smart homes.
$54.99: This is WOW's most popular tier. It comes with internet speeds up to 1Gig and a $200 prepaid Visa. This tier is ideal for HD video streaming, gaming, and video conferencing.
If you're interested in WOW Internet, check out their website here!
Verizon Fios
Verizon Fios Internet-only service is only widely available on the East Coast. They offer a variety of different plans to their customers, which we will break down below.
$39.99 Plan: With this plan, you get 200 Mbps, which is perfect for streaming TV, using social media, or just surfing the web. It is a 1-year contract, or a 2-year contract to waive the setup price.
$59.99 Plan: This plan gives you 400 Mbps a month. This is a good plan for multiple users or for sharing large files.
$79.99 Plan: This is a perfect plan for people who use the internet a lot in their homes. It gives you 940/880 Mbps of speed. If you sign up for a 2-year contract, Verizon will waive your setup fee.
If you are interested in Verizon Fios, go to their website and sign up today!
FreedomPop
Like the earlier entries on this list, FreedomPop provides wireless internet using a hotspot on your mobile device. This makes it easy to set up, especially if you have enroll in unlimited data. FreedomPop has a variety of plans available to you, and we will break those down for you below.
Basic Plan: This may come as a surprise, but FreedomPop's basic plan is actually free! You actually get 500 MBs of data per month with a charge of $0.02 per additional MB of data. This isn't a lot of internet, but it's perfect if you just need basic usage. On this plan, you only get access to the 4G network.
Pro 500 Plan: This plan is only $3.99 per month and offers 500 MB per month just like the basic plan, but this time you get access to 4G and 3G networks. Just like the basic plan, additional data is $0.02 per additional MB.
Premium 3GB Plan: This plan is $28.99 per month and gives you 3GB of data with 3G and 4G network access. Additional data on this plan costs $0.015 per MB.
Premium 4GB Plan: You guessed it, this plan comes with 4GB of data per month. IT's priced at $34.99 per month and additional data costs the same as the 3GB plan.
Premium 5GB Plan: This plan features 5GB of data for $39.99 per month.
Premium 10GB Plan: This plan features 10GB of data for $74.99 per month.

Pin
If you're interested in checking out FreedomPop, visit their website here.
AT&T
While AT&T is known for their bundles, they do have an Internet-only plan that you can look into. Their internet-only plan is available in many states, including the following:
Alabama
California
Georgia
Nevada
Michigan
Arkansas
Florida
Illinois
Texas
They offer a $50 internet plan with speeds up to 100 Mbps. For more information on their plan, check out their website.
Conclusion
Getting internet doesn't have to be a huge hassle. There are lots of options available to make it easy on you to get the connection and speeds you need at low prices without all of the strings attached. Hopefully, this article has guided you towards some options that will work out for you so you can start browsing, streaming, and connecting today!