Creepy Halloween Party Food
When it comes to Halloween party food, the creepier the better right? Especially if you're catering for teenagers.
Some of these dishes look more scary and stomach churning than others but, if you're looking for inspiration for your own concoctions, you'll definitely find it here.
These recipes are curated from various blogs around the internet so be sure to pop over to the source blogs by clicking on the various links.
This collection also includes some Amazon affiliate links, see below for more information.
Smart Money, Simple Life is a participant in the Amazon Services LLC Associates Program, an affiliate advertising program designed to provide a means for sites to earn advertising fees by advertising and linking to Amazon.com.
Warning! If you're easily grossed out by 'stuff', my picks for the creepiest creepy Halloween party food are 12 and 13 on this list.
Seriously. They. Are. GROSS!
Don't say I didn't warn you. Now, on to the list of 13 Creepy Halloween Party Foods…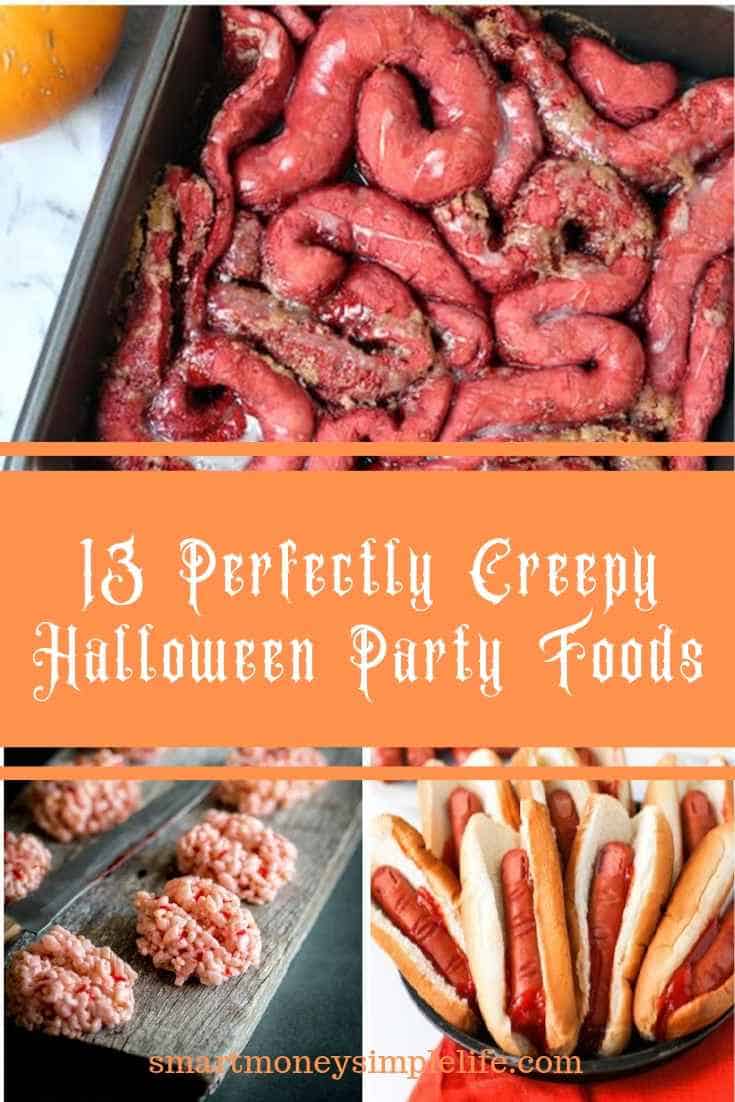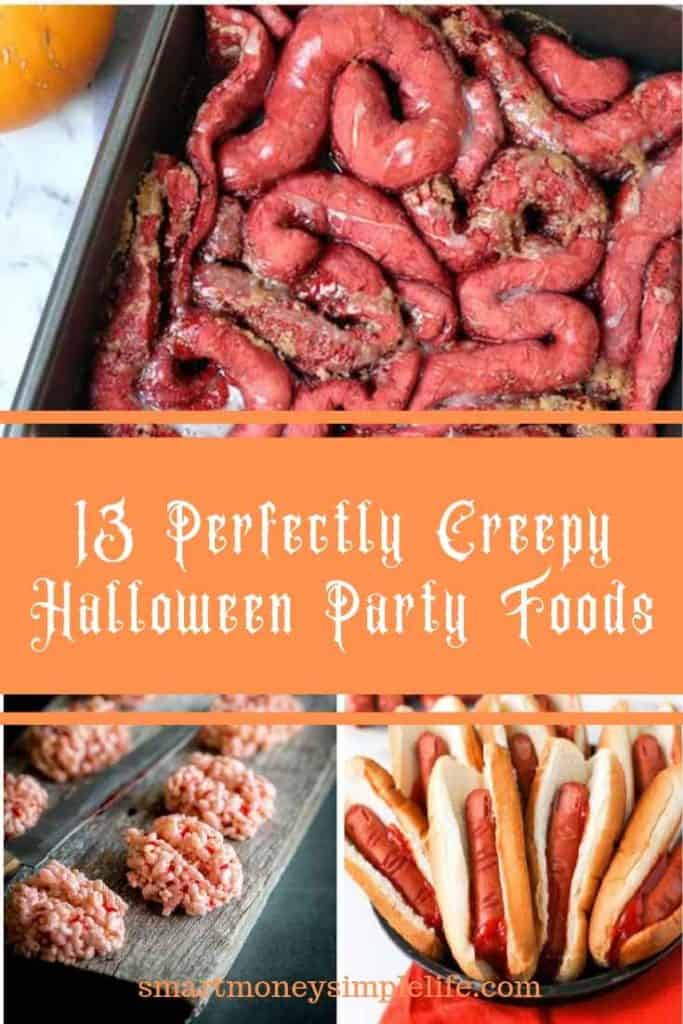 1 – Dark Chocolate Halloween Cookies
These are the least creepy but I thought I'd better start with a couple of gentler suggestions.
These cookies are the creation of Simply Happy Foodie and you can find the recipe here.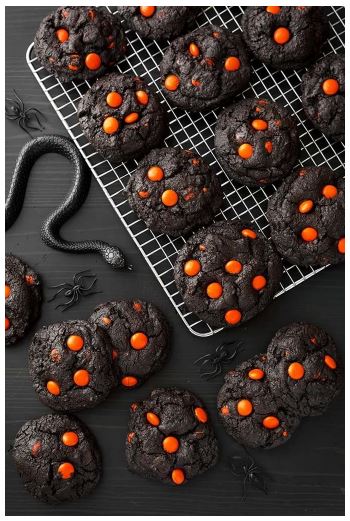 Image: Source
2 – Rice Krispies Treat Marshmallow Brains
This Halloween take on rice krispie treats is from Sprinkles and Sprouts and you can find the recipe here.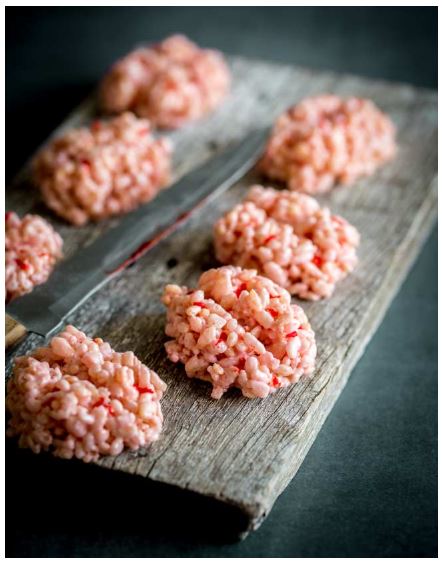 Image: Source
3 – Halloween Poison Apples
An apple a day keeps the… Hmm… Not so sure that applies to these apples. Created by Travel Cook Tell, you can get the recipe here.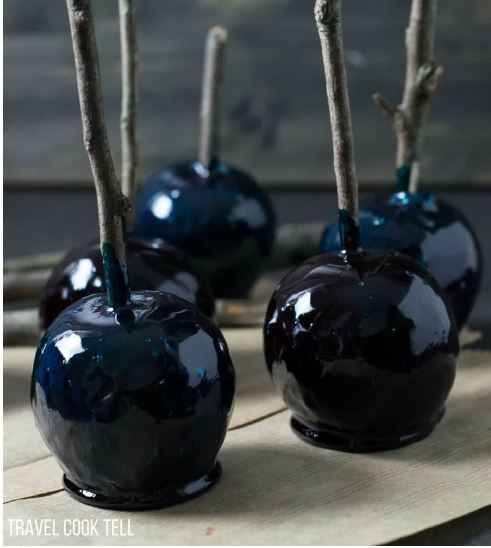 Image: Source
4 – Voodoo Doll Cookies
These Voodoo doll cookies are perhaps not the creepiest but they show that even the humble gingerbread man cookie cutter (find them here) can be useful when creating Halloween goodies.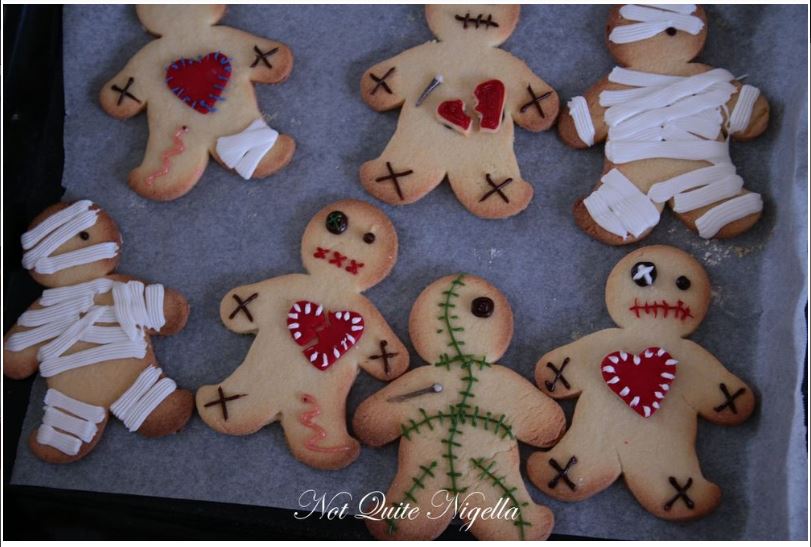 Image: Source
5 – "Zombie Guts" Halloween Cinnamon Rolls
I reckon these zombie guts cinnamon rolls have a specific audience in mind (not me!) and that crowd would love them. Can you guess? Leave your guess in the comments.
Quite a few of these recipes would appeal to that crowd… :-)
This recipe can be found here.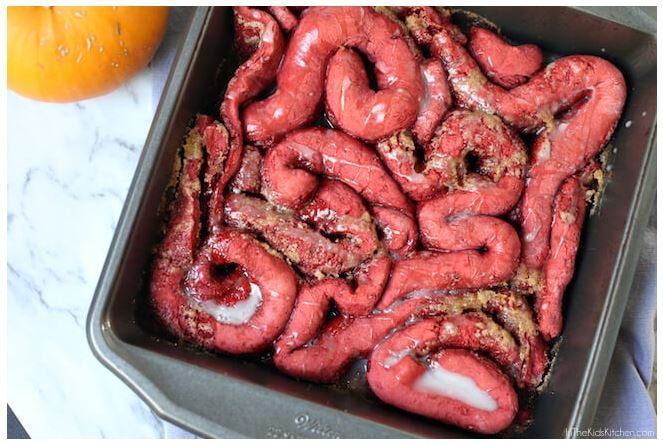 Image: Source
6 – Bloody Finger Hot Dogs for Halloween
These cleverly crafted hot dog 'fingers' show that a little imagination can go a long way. Find out how to replicate them here.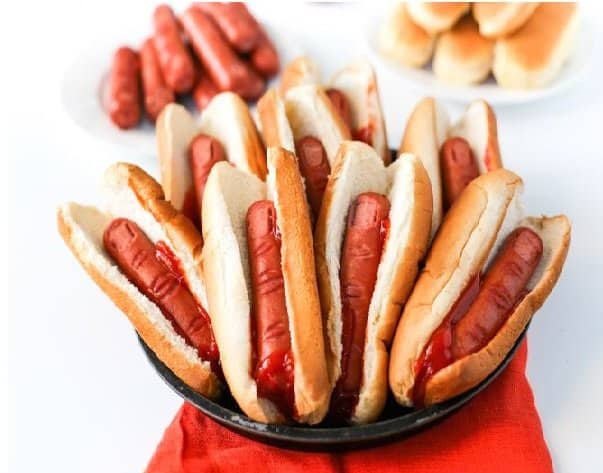 Image: Source
7 – Cheddar Witches' Fingers (Spooky Cheese Straws)
Cheese straws are definitely a fan favorite at most gatherings and why should Halloween be any different? You can find the recipe and instructions here.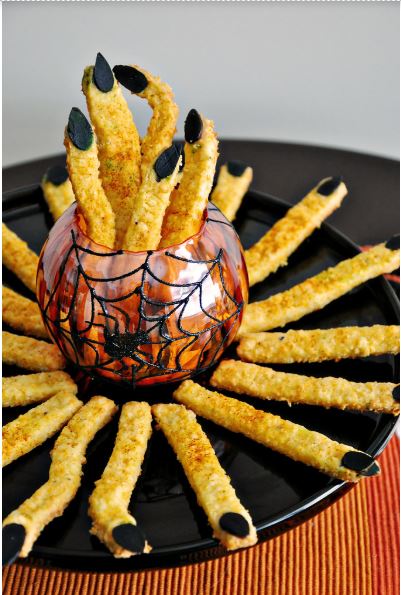 Image: Source
8 – Shrunken Heads in Spiced Cider
Here's another simple carving project with serious Halloween creepiness. Check out all the details here.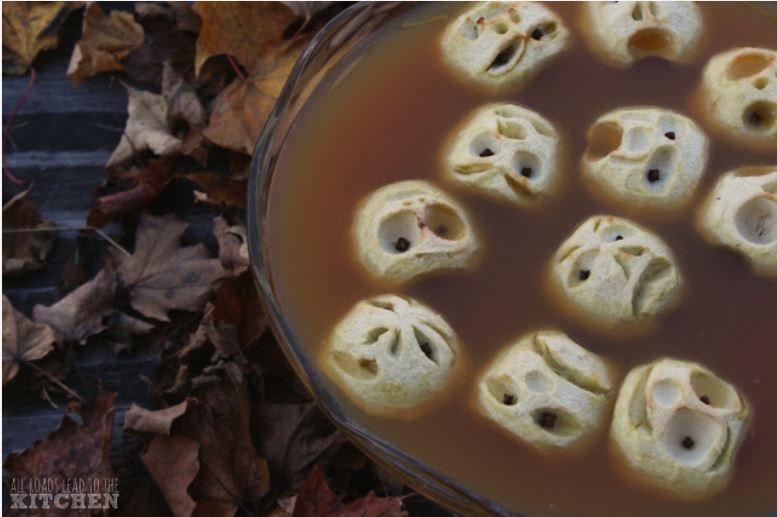 Image: Source
9 – Brain Dip
The perfect snack for your favorite zombies – brains! You'll need a jelly mould for this treat – see the latest prices here. And, you can find all the other details on Hopelessly Ever After.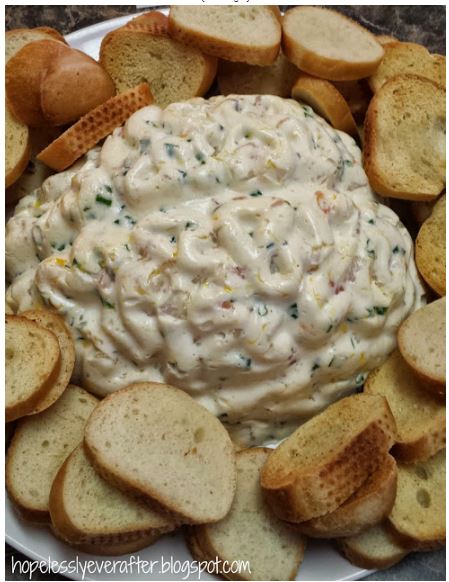 Image: Source
10 – The Noshing Dead 'Palmiears'
What's the perfect accessory for a Halloween party? A zombie ear necklace, of course!
And no, that wouldn't be creepy at all.
See all the details of these palmiers made creepy at the Kitchen Overlord.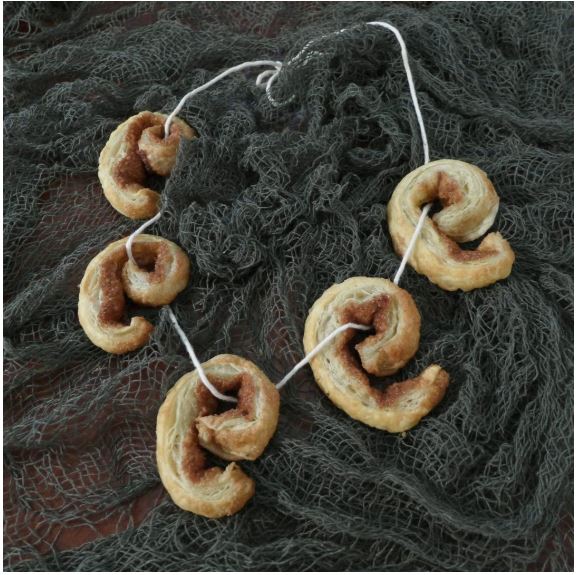 Image: Source
11 – Edible Intestines
More unpleasant looking (but tasty) edibles for your Halloween buffet table. Perfectly ghastly and a perfectly creepy addition to this list. Get all the details here.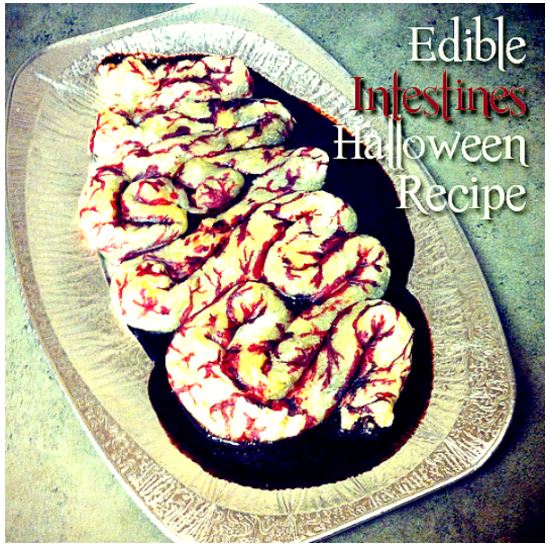 Image: Source
12 – Zombie Mouth Cupcake
These cupcakes are next-level-creepy.
After all the work you'd need to put into them, I reckon they'd be better used for decorative purposes.
Besides… Could you eat them?
There's no denying they are amazing. You find all the instructions here.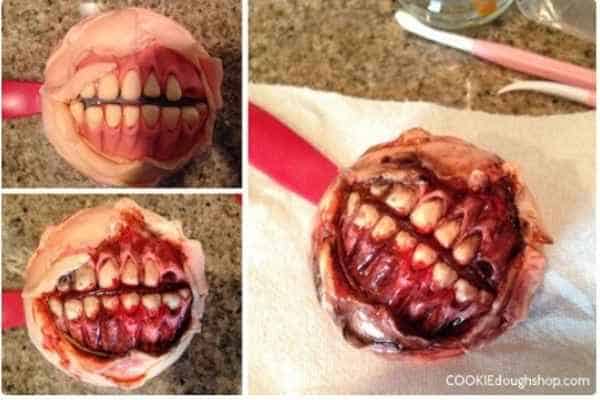 Image: Source
13 – Broccoli and Pea Green Salad Grubs
Eat your greens, kids!
Honestly, I'm not sure if these broccoli and pea grubs would turn kids off or encourage them. What do you think?
You'll need a mould to make them so you can either make your own or use a candy mould like this one here.
The recipe and all the instructions can be found here.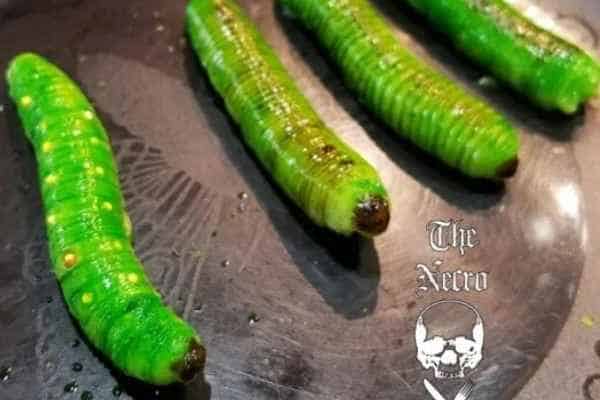 Image: Source
Creepy Halloween Party Food
What do you think? Creepy or not creepy enough?
Which of these creations would you add to your Halloween buffet table?
---
Build a Life you Love
The absolute driving force behind my online endeavours is to establish and maintain a life I love. A life that allows me to spend my days the way I want to spend them.
After a short stint back in the corporate world, I'm more committed than ever to spend my days doing things that bring me joy and add real value to others' lives.
Blogging – Learn how to start your own blog or business web site. Once you get started, there's almost no limit to what you can achieve for yourself. But, the first step is establishing your foundation and that has to be a self-hosted site. If you're just testing the waters, I recommend Bluehost as a cost-effective way to get started.
Online Store / eCommerce – Along with this and some of my other blogs, I have another business that includes an Etsy store and a Shopify store. Whether you're selling stock you've purchased, dropshipping or selling your own handmade products, eCommerce is a great way to start an online business in your spare time. Shopify is a great platform to use as it's intuitive and has lots of help available if you get stuck, and they have a ton of plugins to make it easy to get all of the features you want.
Managing your Money – The framework for everything in life and business is good money management. Keep coming back to our site for more helpful tips, but if you are doing some shopping and want cash back, check out Rakuten (formerly eBates).
---