These home hacks help you get organized and stay organized.
Make life simpler and easier by getting on top of problem areas like linen closets and bedside tables.
A life with less clutter is simpler and less stressful. And, most of us seem to be striving to start living our best lives by reducing stress and making more time and finding more energy for the stuff that really matters.
What you'll find in this home hacks post is a collection of nine very smart and simple ideas to kick start organizing your home.
Click on either the links or the images to go to the full articles.
Don't forget to add your own genius organization hacks in the comments below!
This post contains affiliate links
If you buy a product through an affiliate link, I'll receive a small commission – at no cost to you. Affiliate commissions help pay for all the little things a blog needs to keep afloat. So, a great big thank you in advance for using these links.
Store Cupcake Wrappers in a Mason Jar
Idea from Table for Two
Cupcake liners have a habit of getting squished in cupboards or drawers so this is a very practical (and pretty) way to store them safely. Home hacks like this look so good you'll want to keep it on display.

Store Sheet Sets in Matching Pillow Case
Idea from Home Goods
It doesn't take much for linen closets to turn into disaster zones. Try this home hack for keeping things sane and organized.
Keep all matching sheets together and neatly folded inside of matching pillow cases.
Use Ice-Cube Trays to Organise Eye Shadow Pots
Idea from Brit + Co
Genius idea for keeping your eye shadows organized and stop them from becoming damaged. Bonus, you can see the colors without having to move them around.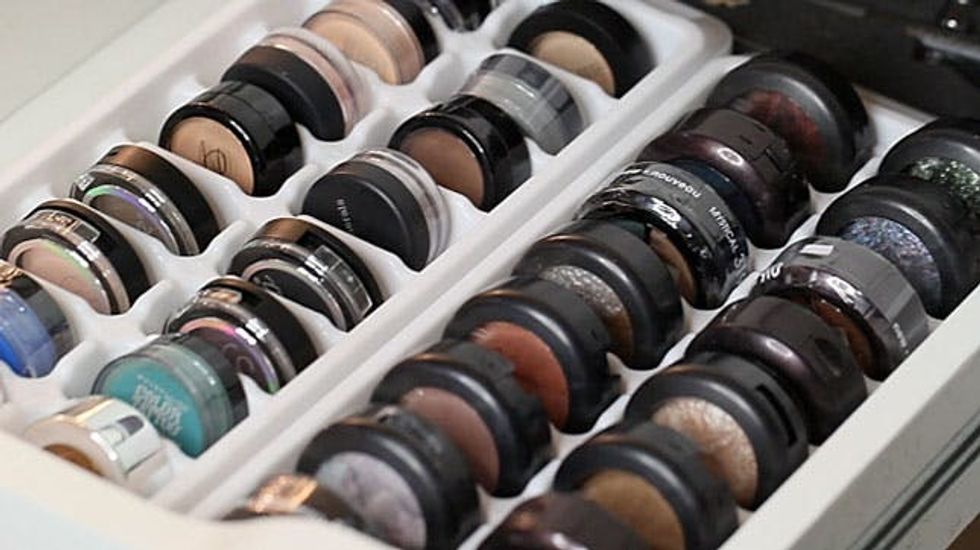 New Use for Hanging Shoe Holder
Idea from Cosmopolitan
Keep all your hair accessories organized and ready to grab. And, no more tangled cords!
Organize Your Scarves with a Hanger
Whatever the weather, scarves make a great fashion accessory. If you have lot of scarves, a great way to store (and display) them is to tie them around a hanger. They're easy to access and it looks awesome!
Bedside Trolley
Idea from The Freelancer's Fashionblog
The top of my bedside table is always cluttered with books, magazines, ear buds, lip balm and notebooks. Sure, it has a cupboard underneath but, being a visual person, if I can't see it, it doesn't exist! So, I absolutely love this idea. Plus, this trolley from IKEA is now available in a range of colors.
Nursery Dresser Organisation
Idea from Two Twenty One
If you have littlies, then you'll know all those little outfits get in a mess very quickly. A great way to keep small outfits (or even your own) organized and create more space is to roll them. No more digging around for a particular item as every outfit can be seen and removed without disturbing everything else.
Wire Baskets to the Rescue
Idea from Golden Boys and Me
A little bit vintage but a lot practical! Wire baskets not only look great they are also great for keeping everyday kitchen items accessible, easy to grab and organized. And, also frees up space in drawers and cabinets for other kitchen necessities.
Cleaning Command Centre
Idea from School of Decorating
For most of us, cleaning is a chore. But… When you have an awesome cleaning command centre, you'll feel much more enthusiastic about dragging out the mop and bucket.
Home Hacks that make you an Organization Genius
I hope you enjoyed this collection of home organization ideas. For more great organization ideas, check out our Organisation board on Pinterest.
Don't forget to add your own genius discoveries in the comments below.
Suggested Products