Everywhere you look, there are articles recommending you sell your unwanted goods (aka clutter) on eBay.
That used to be excellent advice. Now? Not so much. Maybe. The rules have changed considerably over the last 12 months and those rules do not bode well for smaller sellers.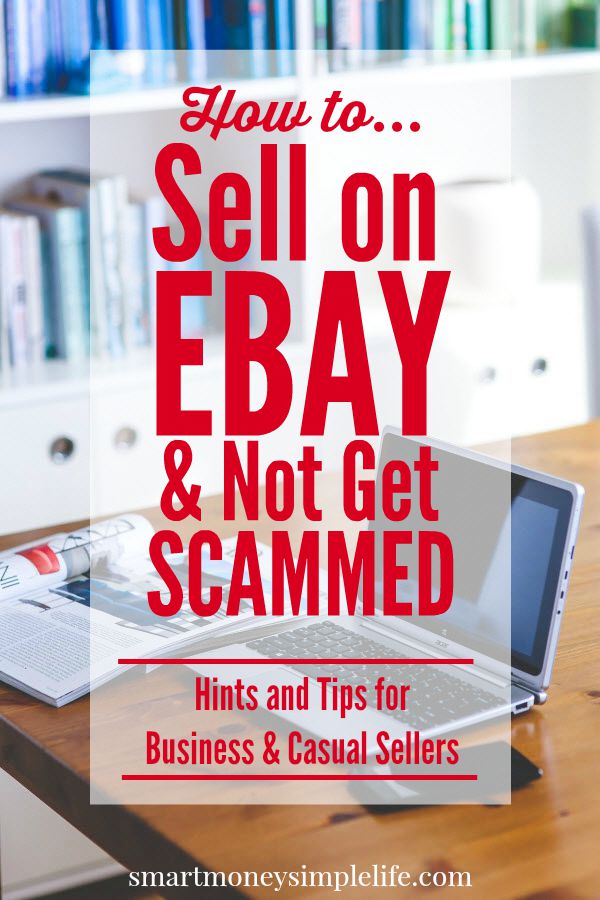 Pin
I've been a business seller on eBay for 10 years and have seen many changes take place during that time; some good, some not so good. In the last 12 months, the changes have all been bad for sellers, whether you're a business seller or not. In fact, hobby or casual sellers will bear the impact of these changes more acutely than high volume business sellers.
So, what's changed? The two most important changes are:
eBay Money Back Guarantee
Seller Defects
eBay Money Back Guarantee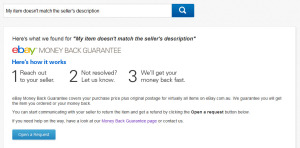 The eBay Money Back Guarantee looks like a good thing. Usually, a business offering a money back guarantee does so because it knows it offers excellent service and excellent products. On the face of it, it looks like eBay is generously offering this guarantee with their own money. They're not. It's your money they're giving away.
The money back guarantee is a nightmare for you as a seller because it takes the decision of whether or not to refund a buyer out of your hands. In effect, eBay have taken over an integral part of your business not to mention your ability to manage your cash flow.
In addition, eBay rarely decides in favour of the seller so even if the buyer has misrepresented your product, failed to provide evidence or just out-right lied, you will invariably be required to provide a refund for the product and the postage, plus the buyer will probably get to keep your item, too.
If you're already a member, take the time to visit the discussion board for selling on eBay, I guarantee it will be an eye-opener. Or, take a look at this article in the Guardian.
Seller Defects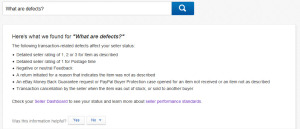 It used to be that sellers only had to worry about Feedback (positive, neutral and negative) and Detailed Seller Ratings (star ratings for item as described, communication, postage time and postage and handling costs) now eBay has introduced Seller Defects.
Seller defects are, in essence, black marks against your account that occur when certain events take place. For instance, you'll be issued a defect if you receive either negative or neutral feedback. Yes, eBay have changed the definition of neutral, it's now treated just like a negative and incurs a defect on your account. You'll also receive a defect if your buyer leaves you three stars or less for Item As Described in the Detailed Seller Ratings.
Defects are also applied when your buyer initiates a request via eBay for a refund, item not received or item not as described, regardless of the actual status of the transaction. That means, even if you check the postage tracking and it shows the 'item not received' is awaiting collection at the post office – you will still wear that defect for anywhere between three months and a year depending on your selling volume.
If being described by eBay as 'defective' isn't bad enough, it can also adversely affect your ability to sell on the site. If you're deemed to be below standard (as shown on your Seller Dashboard) eBay can limit your selling activities until your performance improves. Logic that belongs in the 'beatings will continue until morale improves' category.
What can you do?
If you still want to try to make some money by selling your stuff on eBay, you can try the following:
Take excellent photos and lots of them, especially detailing any wear and tear or faults
Write a clear and concise description for the item in a simple type face
Use the Item Specifics fields and add your own
Make sure your shipping method has tracking and for high value items include insurance and signature on delivery
When your item sells, make sure you maintain communications via eBay messages so there's a record
Upload tracking numbers for the transaction as soon as you have them
Take the time to read all the fine print on eBay's Rules & Policy Pages.
While eBay is no longer the venue it once was, you can still make money if you're careful. Keep the above steps in mind and you ought to do OK. You might never have a problem selling your items and be lucky enough to always have pleasant and honest buyers, but… you just never know so it pays to be prepared.
My final piece of advice is: if you're getting odd or over the top questions from a buyer, check their Feedback Left for Others. If you're in any doubt about their calibre as a buyer – block them. Sometimes, a sale just isn't worth it.
Note: The fine print on eBay's Rules and Policies can differ depending on the site on which you register so make sure you check the appropriate site's pages, for example Australian sellers will need to check the information specifically on ebay.com.au and US sellers will need to check ebay.com, etc.
If you're serious about building a business, consider your own self hosted website. It's the only way to maintain control over all aspects of your business.
Do you sell on eBay?
Have your experiences been mostly good, bad or a bit of both?
What other hints and tips would you share with someone about to start selling on eBay? 
Images: Pixabay
This post contains affiliate links.