You've done the work. Spent hours on Pinterest and perusing glossy magazines and you have a gorgeous clean, fresh bedroom, worthy of a spread in Home Beautiful.
Now the hard work really begins… Keeping it a clean, fresh bedroom that's a health-hazard-free zone.
What dangers could be lurking in your bedroom? Here are the top three things that could be harming you while you sleep and what you can do to rectify them.
Tips for a clean, fresh bedroom…
Poor Air Quality
Open Bedroom Windows – The first step to a clean fresh bedroom is to allow it to air out regularly. Open windows every day, unless weather conditions won't allow it. I prefer to sleep with the window open, too. I believe you sleep best when you stick to the old adage of; warm bed, cold room.
House Plants – A potted plant or two can add a decorative touch to beautify your bedroom. Indoor plants can also positively impact air quality by releasing oxygen, and filtering harmful compounds from the air.
Purify -An Air Purifier
is an efficient way to maintain a fresh bedroom by removing dangerous pollutants and agitating allergens like dust mites, pollen and pet dander from the air. If you live in the city, an air purifier is a must.
Coway Airmega AP-1512HH True HEPA Air Purifier with Air Quality Monitoring, Auto Mode, Timer, Filter Indicator, Eco Mode
[Coverage] Designed to clean spaces up to 361 sq. ft. in 12.5 minutes or up to 874 sq. ft. in 30 minutes. Timer: 1, 4, 8 hours
[HyperCaptive Filtration System] Combination of a pre-filter, deodorization filter, and True HEPA Filter reduces 99.999% of 0.01-micron particles, including pollen and other allergens. It also reduces 99% of volatile organic compounds and odor.
[Auto Mode] Constantly monitoring the air quality, the fan automatically adjusts to most effectively purify your space as needed providing a new level of clean in real time.
[Eco Mdoe] When the air quality in the room remains purified for 30 minutes or more in Eco Mode, the fan will turn off to conserve energy, kicking on again when pollution is detected.
[3-Stage Manual Fan Speed] Control your AP-1512HH's fan manually with low, medium, and high settings.
Pin
10 Best Houseplants to Improve Indoor Air Quality infographic by Barratt Homes
Cleanliness
Clean and Dust -Even with an air purifier, you need to dust and vacuum regularly to keep dirt and dust mites to a minimum.
Wash Bedding – It's best to wash your bedding weekly but every two weeks is probably OK if you also air out your bed each morning (see below). Skin cells, grime, and dust mites collect on your bedding and are often the cause of allergies and breathing difficulties. A regular hot wash can solve that problem easily. If you can, hang your bedding in the sun to dry. The sun is a potent anti-bacterial and brighten your sheets, too.
Air Out Your Bed – Fling back the sheets, fluff up the pillows, and give everything a few minutes to air before you make your bed in the morning. Fresh air and sunshine helps even if your sheets are still on the bed.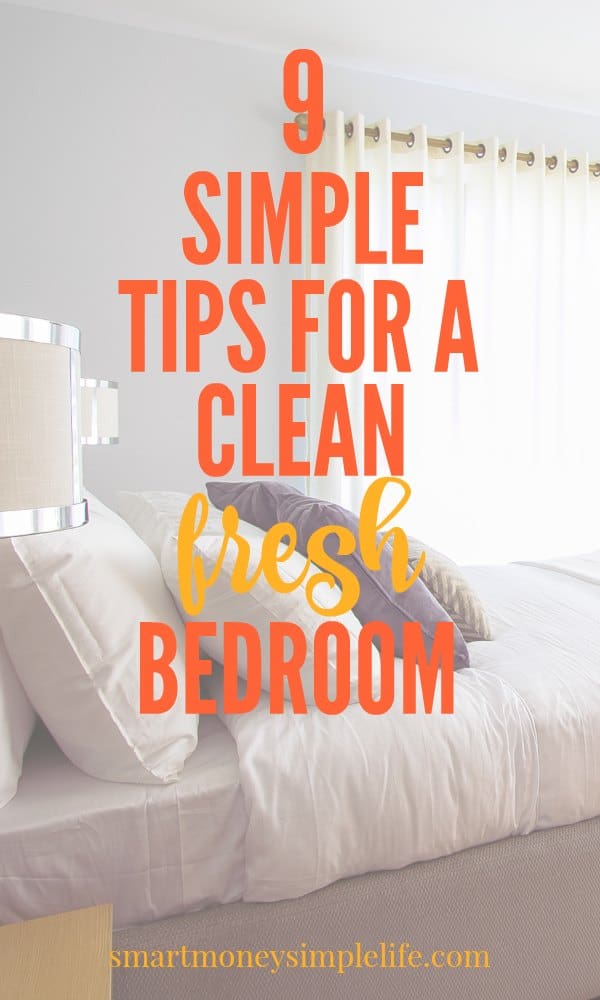 Pin
Hidden Toxins
Chemical-Free Pillow – The bad news is that popular memory foam pillows have some serious issues with off-gassing. You can learn more about off-gassing and Volatile Organic Compounds (VOC's) from the EPA. VOCs can cause headaches, nausea, and eye irritation. So, not what you want to be face to face with all night! Swap out your memory foam pillows for ones made with organic materials, like wool
or feathers, or at least a safer foam like natural latex foam.
Flame Retardant-Free Mattress – Many products, including mattresses, were once bathed in flame-retardant chemicals, however we now know these chemicals have been doing much more harm than good. Flame retardant chemicals have been linked to cancer, birth defects and fertility issues. Definitely not what you want to be snuggling up to at night.
Move Office Equipment – Sometimes, space or a lack thereof dictates keeping your office equipment in your bedroom. Unfortunately, equipment such as laser printers, can emit toxic particles into the air so if you must have them in your bedroom, make sure you use an air purifier.
---
Related posts:
Your Turn…
What do you do to help create a clean, fresh bedroom?