A vertical vegetable garden can be the mind-blowing solution to your desire to grow your own food but the problem of a distinct lack of space.
Sometimes, you need to look at a problem from a different angle and, when it comes to growing vegetables, that means looking up.
Not every vegetable is suitable for a vertical vegetable garden, but even if you can only grow some lettuce and snow peas in your limited space, they're going to make the best salad you've ever tasted.
Some of the ideas here can be put into action with items you have on hand or can buy very cheaply from either hardware store or second-hand building material.
For lots of other great ideas for growing your own food, follow our Grow Your Own Food board on Pinterest.
Vertical Vegetable Garden Ideas
The following infographic is an excellent reference point for starting your vertical garden. Check out your favorite vegetables ('cos why grow anything else?) and the best method for supporting them.
Source: Custom Made
A Hanging Garden of Potted Herbs
Useful and attractive, this design enables you to create a privacy screen and a source of fresh herbs for your kitchen.
Source: Deborah Silver
Gutter Garden
The clever arrangement of guttering provides both an abundance of leafy greens for salads and efficient use of water.
Source: MakeZine
Simple Arbour Tunnels
Use recycled metal reinforcement rods and mesh to create an arbour for supporting all sorts of climbing vegetables.
Source: Wahsega Valley Farm
An other version of a tunnel, this time over a grassed path enables vegetables to be grown over an area unavailable for planting.
A more elaborate series of arches over the paths in a raised garden – attractive and productive.
Once again, gutters are used for both direct planting and as shelving for small potted plants.
Source: More Than Chic
Strawberry Tower
Clever use of space employed for growing everyone's favorite berry; strawberries!
Source: Remove and Replace
Hanging Gutter Garden
Excellent use of vertical space by suspending guttering from the side of a pergola: part screen, part extra garden.
Source: Goods Home Design
A Wall of Boxes
Not just an efficient use of space but seriously attractive, too.
Source: Little Green Dot
3d Garden
Add an extra layer to your small vegetable garden by growing sprawling plants over a hoop.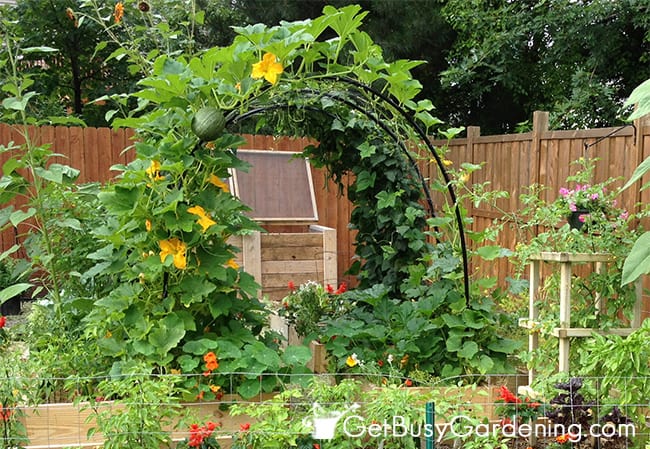 Source: Get Busy Gardening
Want to get started? Check out these best-selling vegetable garden planters
Bestseller No. 1
Sale
Bestseller No. 2
Garraí Vertical Garden Wall Planter - Wall Mounted Hanging Planter for Flowers, Vegetables or Herb Garden
VERTICAL PLANTER TOTAL SIZE: 26 (H) x 20 7/8 (W) x 5 1/2 (D) inches
Vertical planter total Size 4 1/2 (H) x 9 3/4 (W) x 5.5 (D) inches. Six (6) pots are easily removable (just lift out) from the frame to allow various re-arrangements and easy repotting. No more reaching too high or too low to plant your favorite arrangements. Remove the planter box and tend to your plants at your own comfort. Good for seniors to continue gardening.
Stylish Plant wall décor This decorative hanging planter is perfect for small spaces, balcony planter, patio planter, or herb garden. The charcoal color of the frame and containers allows for your flowers colors to shine.
Strong and Durable: One piece frame is made of heavy duty powder coated steel with a fashionable finish. Durable planter boxes are 100% food safe polypropylene.
Drainage: Each planter box comes with a Root Tray Riser and drain holes to promote a healthy root structure. The drain holes allows water to flow from flower box to flower box. Optional drain plugs included for use as indoor wall planter for indoor plants.
Bestseller No. 3
VIVOSUN 5 Tier Vertical Gardening Stackable Planter for Stawberries, Flowers, Herbs, Vegetables
High-QUALITY PRODUCT: Thick, high-quality PP materials can be used repeatedly without fading, not easy to crack even in summer.
DIFFERENT COMBINATIONS: You can stack 2 or 3 or 4 tier. This planter can be hang with chains or used on a cylindrical rod.
SPACE SAVING: The vertical stacking saves space to the most. You can grow many healthy plants in a small place
FLOW DESIGN: The water filtration system from top to bottom can effectively save and retain moisture. Meanwhile, the bottom is equipped with a bottom dish that will not stain the ground.
HAPPY PLANTING: It can be placed in the kitchen to grow fresh vegetables and fruits, or on the balcony to create a small flower/vegetable garden of your own.
Small Space & Vertical Vegetable Garden Ideas
https://www.youtube.com/watch?v=o4nHi1m7Rn8
Your Turn…
What clever tricks do you use to grow vegetables in small spaces? Let us know in the comments.
Remember to follow me on Pinterest and Facebook!
Last update on 2021-01-24 / Affiliate links / Images from Amazon Product Advertising API