Stick to these financial resolutions and the new year is guaranteed to be awesome!
*** This post contains affiliate links. ***
Generally, I do my best to avoid making new year's resolutions. It's too easy to turn the prospect of a brand new year into a psychological torture fest. Let's face it, who needs the guilt of resolutions that fall by the wayside by January 3?
Instead, I use the close of the year as an opportunity to fine tune my finances. To look back on the year to see what worked, what didn't, what I could have done better, what I didn't do but should have and, of course, revisit triumphs and celebrate the wins for the year.
And, this one's been a challenging one. Very challenging.
These are the financial resolutions I'm making to ensure next year is awesome.
1. Create a budget
I know… Boring, right? Like a diet for your dollars.
Your budget doesn't have to be all about denial of the good things in life. Yes, you can use it to manage your spending in certain areas but the greatest value a budget brings is knowledge.
A budget enables you to understand where you're at, financially. So take the time to revisit all your income, bills, cash withdrawals and the like for the year and create a picture of your financial position based on facts.
If you don't already have a budget, of all the financial resolutions, this one is the one you need to focus on.
2. Schedule a regular budget check in
Budgets aren't a set and forget deal.
Checking in on your financial situation regularly is important, too. There's a theory that what you track, you can control.
Create a spreadsheet or use an app or online tool to track your spending and income and check in every week or every payday to make sure everything is up to date.
3. Keep it simple
The more complicated a system is, the more chance there is for something to slip between the cracks.
If you've got bank accounts you don't really need or use, close them.
Automate whatever you can; savings, regular bill payments, a set amount to a bill paying account. By automating these transactions, you'll save time and potentially fees for late payments, etc.
Automating your savings is the first thing you should do. Pay yourself first. If you're not making enough to actually save any money, check out financial resolution #6.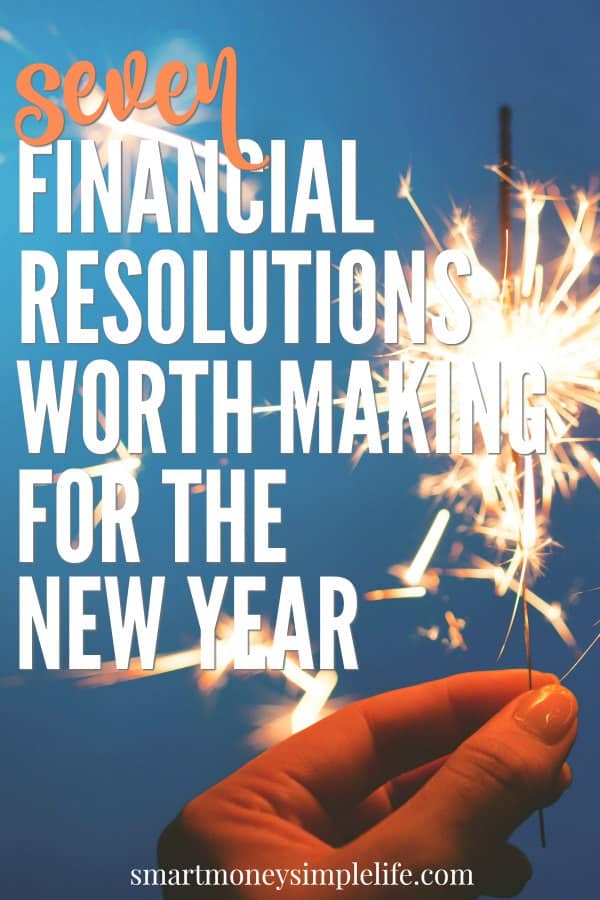 Pin
4. Pay down your debt
If you're carrying any debt, especially consumer debt, make paying it off your priority this year.
Debt keeps you in the loop of living from one pay to the next. The interest you pay on a credit card each month can amount to thousands of dollars over the course of a year. Money that could be used for investing in your future.
Debt also steals your money and your choices. When you've got debts to pay, you have to stay in a job you can't stand, live in a location you don't feel safe in and can't live the kind of life you deserve.
Work out your debt repayment plan and make it a priority.
5. Start saving
If your budget shows you've got a good surplus after all your bills and usual expenses are paid, transfer that surplus money into a savings or investment account and start growing your nest egg.
While you're building your savings, build your knowledge, too.
In most parts of the world, financial planners are basically sales people. Before you set foot in a financial planner's office you need to be able to discern the difference between a fact and an opinion - Robert Kiyosaki (Rich Dad Poor Dad) brought this distinction to my attention many years ago and it's an important lesson to learn.
6. Make more money
Start a side hustle. Not only can a side hustle enable you to make more money but it will also provide an added layer of security to your finances.
If you've been thinking of turning your passion into a payday, this is the year to do it.
There are a million different ways you can make extra money, some are once off opportunities like selling your clutter while others can be built into full-time businesses like selling handmade goods online or gardening services or even tutoring.
Multiple streams of income will take your finances to the next level. Of all the financial resolutions to make for the new year, this is the one that will make all the others so much easier to realise.
7. Grow your mindset
If you've got to the end of your financial review and discovered you're worse off than you imagined or you've confirmed that the year was as bad as you thought it was, don't beat yourself up.
Seeing abundance rather than scarcity is an important paradigm shift to make.
It's a challenge I'm fully aware of. Scarcity breeds scarcity. When you're just thinking about your bills and how you'll pay them you seem to attract even more bills – at least, that's my experience.
So, promise yourself that, like all the other financial resolutions you'll also work on growing your mindset toward abundance.
And remember, no one is perfect. We all make mistakes. The trick is to acknowledge them, learn from them and then move on.
Of course, if you've had a fantastic year financially, congratulations! Keep up the great work and keep growing that mindset because whatever you can believe for yourself, you can achieve. So, go for it!
Your turn…
What financial resolutions will you make this year?
Suggested Reading: Financial Resolutions