Running out of gift ideas for that minimalist loved one who is, therefore, impossible to buy for?
Let's face it, we all have at least one of those people in our social sphere.
Sometimes, they're naturally frugal so their standard response to "What do you want?" is "I don't want anything".
Trust me, I know this because that's ME. And, I'm pretty sure it drives everyone who has ever had to buy me a gift, totally bonkers.
But, see, here's the thing: I'm big on not wasting money. So, I'd rather you kept your money in your wallet than spend it on something I neither need or want and feel too guilty to re-gift or get rid of.
If you're struggling to come up with gift ideas for the frugal/minimalist in your life, here are some ideas you might not have thought of yet.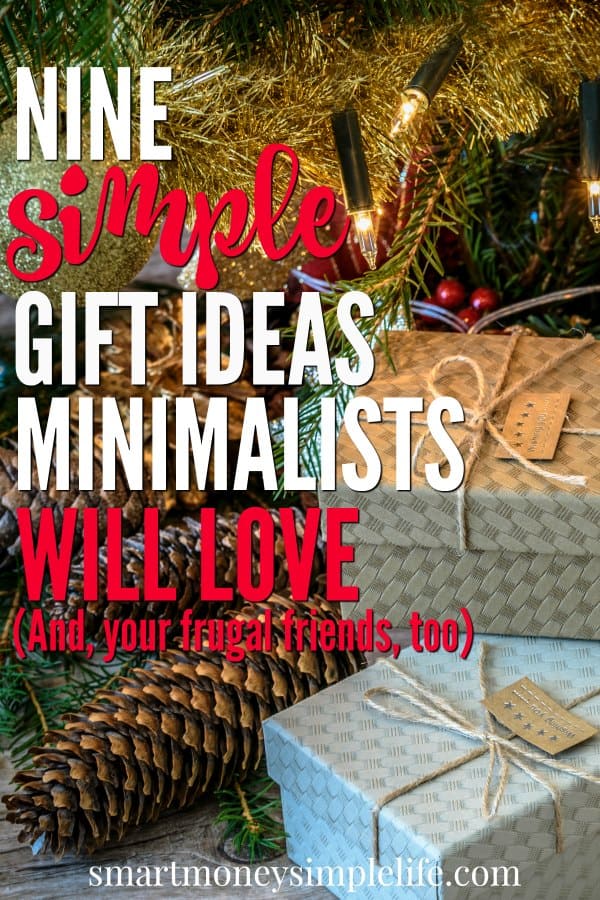 Pin
An Experience
My mum can be a challenge when it comes to gifts. We're always looking for gift ideas and filing them away for future reference.
This year, we decided on an experience rather than a thing. We took her to the swanky part of the cinema, and ate lunch while we watched a movie. She hadn't been to the cinema since my dad died over seven years ago and, she loved it!
What kind of experience will make your loved one's heart soar? It can be as extreme as sky diving or as pedestrian as a trip to the zoo.
And, there's no packaging required!
Replace Something
It seems to me that frugal people tend to put off replacing things that break or wear out. Often in deference to someone else's needs.
If your loved one has something that fits this description, replace it for them. If it's pricey, get a few family members or friends together and buy it as a joint present. Bonus: Gift idea problem solved for multiple people!
Something Useful
Pin
Useful doesn't have to be boring. And, labor saving devices have a place in even the most minimalist home. Hand mixers like this colorful KitchenAid
are practical and useful. Even if you have the stand mixer
(which I'm saving for since my old Kelvinator died, hint, hint) a hand mixer is a much better option for small things, like whipping cream.
It won't take up too much space, either. So, if your loved one is handy in the kitchen, this could be a great gift idea.
Other options include things like first aid kits for the car.
Or, a sleek coffee machine for that person in your life who spends too much on coffee-to-go. But, make sure it's not one that takes those little pods. That won't fit as either a frugal or minimalist gift idea. Too expensive and too much waste. If they already have a pod style coffee maker, maybe reusable pods
(K Cup) might be a great gift idea. See image at bottom of this post.
Something you read or watched that touched you or maybe changed your life
Pin
Share a book or movie that either inspired you, touched your heart or maybe caused you to completely change your life.
The most powerful part of this gift idea is to include a note that not just explains why you chose this book for them but also gives them permission to pass it along once they've read it.
Your minimalist friend will be overjoyed.
The book that fits that bill for me is Your Money or Your Life
. I wish I'd found it a lot earlier in my life. It completely changed the way I looked at money and work.
Favourite Homemade Treats
Back when we were first making our way in the world (and completely broke) my bestie made me a big batch of my favorite treat, Anzac Biscuits, for my birthday. It's now many years later and I still remind her how much I loved that gift.
You can present your treats in any number of ways including a decorative tin, a mason jar or the ultimate frugal packaging a recycled container – my Anzacs were presented in an empty ice-cream container!
The key point here is that it's your loved one's favorite homemade treat.
Your time
The only thing in our life we can't make more of is time. That makes it a precious commodity and an equally precious gift.
Offer some of your time as a gift:
Baby sitting so they can have time to themselves
Help them renovate a room so it takes less time
If they're time poor, offer to organize a working-bee to spring clean their house or spruce up their garden.
The elderly loved one, especially, will appreciate your time (and energy) more than another china tea pot.
You can present your gift in the form of a hand-written card or (if your hand-writing sucks) print it and roll it up like a scroll and tie it with a ribbon.
Charitable Donation in Their Honour
There are so many different charities around, you're bound to find one that will fit with their ethics and priorities.
Here are some examples:
Something Consumable
Put together a pack of different coffees or maybe hot chocolate with marshmallows. There are lots of ready made options available in stores but you could also put your own package together with exactly the things they like.
It doesn't need to be extravagant or expensive. Just something that will appeal to your loved one.
It also doesn't have to be edible.
You could give a bunch of fresh-cut flowers. Flowers are something we rarely buy for ourselves but I defy anyone to say that a vase of fresh flowers on the table or mantle doesn't bring them joy.
A Fancy Bottle Of…
Their choice of poison. Wine. Champagne. Beer.
And then, offer to share it with them! :-)
Gift Ideas for the hard to buy for
It's not always all about the stuff. If you choose the right stuff, it'll be used and valued.
So, put some thought into what your frugal or minimalist loved one might actually need rather than just what you'd like to buy them and everyone will be a winner.
And, if none of these gift ideas appeal, try a pre-paid Visa card. Best case scenario they'll buy themselves a treat, worst case scenario, they'll put it toward groceries. Either way, you've added value not junk, to their lives.
You might also enjoy:
Some other gift ideas…
Image: Pexels
Note: This post contains affiliate links.
If you buy a product through an affiliate link, I'll receive a small commission that is at no cost to you. Affiliate commissions help pay for all the little things a blog needs to keep afloat. So, a great big thank you in advance for using these links.