A bullet journal is a fantastic way to keep your life organized, collect inspiration and track your goals.
Your bullet journal is also the perfect place to explore your creativity.
So, how do you add your own personal flair to your bullet journal?
We've got you covered! We've put together some basic suggestions for adding a little flair and creativity to your journal even if you're not really the artistic type.
If you're not sure how to start, check out this video from BuzzFeed Nifty.
Note: This article contains affiliate links.
A Journal Key or Legend
As you saw in the video, a journal key helps you quickly keep track of your projects and other activities.
Use the symbols to represent specific tasks, appointments, and goals.
Keep them simple, keep them at the front of your journal for easy access and, keep your life organized.
Sticky Notes
If you've read the post, Planning for Visual Learners, you'll know how fond I am of these colorful, sticky, bits of paper.
Post-it-notes are the perfect way to quickly note down a thought or idea and pop it in journal temporarily.
Rather than keep a bulky wad of post it notes with your bullet journal, you can put a layer of them on the side front cover of your journal.
Using sticky notes enables you to take a moment or three to decide if the errand or idea is worth adding to your journal – a reminder to collect a book from the library or pick up your dry cleaning probably doesn't warrant a permanent residence in your bullet journal.

Colour Coding with Coloured Pens
As far as I'm concerned, any excuse to collect more colored pens is a good one. My favorites are felt tip pens but colored ballpoint or gel pens work, too.
Using a color code will enable you to know, with just a glance, what's on your schedule for the day, week or month.
Remember to add your color code to your bullet journal key.
Stencil Templates
Not too confident about your penmanship?
Invest in a stencil template.
A template will enable you to create a consistent look and feel for the pages and sections in your bullet journal. And, give you a chance to work on your skills while still producing a beautiful journal.
Not to mention a wise use of your time.
Washi Tape
I recently discovered the joys of washi tape myself and, I'm hooked.
It's a quick and easy way to add color, or section off areas of a journal page.
If you watched the video above, you'll see they used washi tape to create a bookmark for a page by using the tape to overlap the edge.
There are a baziliion (yes, it's a word) different washi tape designs available. From thin and metallic through to wide and patterned, and everything in between.
No matter what your color preference or design aesthetic, you will find a washi tape to suit you.
Make a Calendar Corner
A calendar corner is the perfect way to maintain an overview of the month (or more) while working on the details for that period.
You can either draw it in the corner of a page spread, use a sticker or print off a selection of calendars and glue them in with either craft glue or glue tape.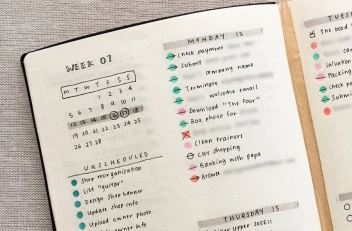 DIY Paperclip Bookmark
Bookmarks can be as simple or as elaborate as you like but my favorite is the paperclip bookmark.
It will stay where you put it and you can attach them along the top of the page or along the side of the page. Or… Both!
And, best of all, you don't need any magic crafting skills to make your own.
All you need is a paperclip (large or small) and a small amount of ribbon.
Remember that washi tape? That'll work, too.
Add Stickers
Oh. Be still my heart!
I adore stickers.
There are so many ways you can use stickers to help organize your bullet journal, it's hard to know where to start.
You can use them for decoration or get (or make) ones you can write on for your to do lists or daily habits.
Bullet Journal Tips to Help Keep Your Life Organised
Ready to get your life organized and get creative while you're at it?
A bullet journal is a fun way to keep track of your (and your family's) busy life. Use these tips to customise your journal, your way.