Sometimes, the hardest part of choosing to make money on the side is deciding what to do. Regardless of whether your decision is based on a need or a want, you usually need a few ideas to get you started.
We're all about helping you find the sweet spot for making extra cash. Extra cash that can help you pay the bills, become debt free or just go on an awesome holiday.
Read on to see some of the great ideas we've found on the net to help you start your journey toward finding new and interesting ways to make money.
The following post, Genius Ways to Make Money on the Side, contains affiliate links. If you choose to make a purchase via one of these links, we will make a small commission.
Find out more about the importance of making a bit of extra money on the side here.
And who knows… You might discover a whole new career path!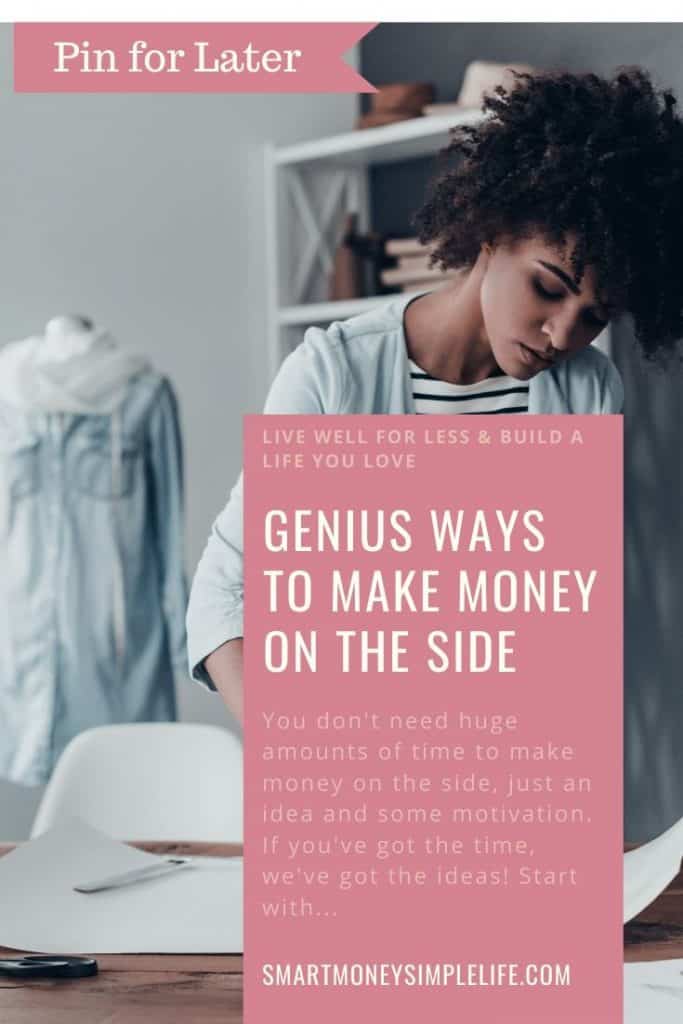 Ways to Make Money on the Side
Each of the sites featured below has a huge amount of information on how to make extra money, along with lots of other topics, so we've highlighted some of their best posts below.
Just click on the image or the link to go to the full article.
We hope you enjoy this collection of genius ways to make money on the side.
Side Hustle Business Ideas You Can Start Today
Side Hustle Nation with Nick Loper has a wealth of resources for anyone interested in either making extra money or building a whole business on the side.
This is a comprehensive list of ideas. Some of which you might already have on your list of money making ideas to try, others you've probably never considered. Check it out!
11 Ways to Make Money as a Stay at Home Mom
Income School has some awesome ideas for creating successful side hustles, and they're not just for stay at home mums.
However, if you're a mum and you'd love to be able to be home with your kids but still contribute to the household budget, this article has some excellent ways to make money that cost little or nothing to start and can be done from the comfort of your own home.
Watch Netflix and Earn
You've probably heard the phrase 'watch and learn', but how about 'watch and EARN'? Sounds crazy right?
If you're a fan of Netflix, The Penny Hoarder has found a way for you to make money while you watch.
See How You can Earn an Extra $3,000 as a Proofreader
Get paid to read? Yes. That's a thing!
Proofread Anywhere can get you started on a side hustle you can literally do anywhere. And, you don't have to be an English wiz to do it, just like to read and have an eye for detail.
In the article below you'll find out how one mum made $3,000 from proofreading in just 10 weeks.
How to Make $2,000 a Week Off of TaskRabbit
Another great idea from The Penny Hoarder is side hustling with TaskRabbit.
TaskRabbit connects you to people who need one off jobs done; everything from house cleaning to grocery shopping and putting together flat pack furniture.
The best tip is to be flexible but also charge a certain fee. One example of this is a TaskRabbit contractor who charged $150 an hour, but was also flexible with doing odd jobs like shopping or even construction.
Definitely something to think about, especially if you have skills that are useful or reliable transport.
9 Apps That Will Help You Earn Extra Cash
Whether you're 8 or 80, you probably have a smart phone, so you can get started on this one today.
The Work at Home Wife has some amazing information for anyone interested in creating a work from home lifestyle and this article on using your smart phone to make money is just the tip of the iceberg.
Not all the apps in this article will suit everyone but this is a great list and it's bound to get you thinking about other ways to use your smart phone to make money.
---
Build a Life you Love
The absolute driving force behind my online endeavours is to establish and maintain a life I love. A life that allows me to spend my days the way I want to spend them.
After a short stint back in the corporate world, I'm more committed than ever to spend my days doing things that bring me joy and add real value to others' lives.
Blogging – Learn how to start your own blog or business web site. Once you get started, there's almost no limit to what you can achieve for yourself. But, the first step is establishing your foundation and that has to be a self-hosted site. If you're just testing the waters, I recommend Bluehost as a cost-effective way to get started.
Online Store / eCommerce – Along with this and some of my other blogs, I have another business that includes an Etsy store and a Shopify store. Whether you're selling stock you've purchased, dropshipping or selling your own handmade products, eCommerce is a great way to start an online business in your spare time. Shopify is a great platform to use as it's intuitive and has lots of help available if you get stuck, and they have a ton of plugins to make it easy to get all of the features you want.
Managing your Money – The framework for everything in life and business is good money management. Keep coming back to our site for more helpful tips, but if you are doing some shopping and want cash back, check out Rakuten (formerly eBates).
---
What are you waiting for?
Take control of your financial future and start your side hustle today.
Also, remember to check out our most popular articles about creating successful side hustles, including:
Your turn…
Have you found a genius way to make money on the side? Please let us know in the comments.