Why would you need to learn how to make money from home?
Because sometimes, living a frugal lifestyle is not enough. Sometimes, the bills outpace your income or if you're like me, your income drops suddenly and you need to make up the shortfall. Finding new ways to add to the revenue side of your balance sheet is also a great idea if you're looking to reduce debt quickly or ramp up your savings.
Another very good reason to consider trying one of the following side hustles is to diversify your income. Having multiple income streams can help shield you from adversity. My current full-time business was once my side hustle. Having that business in place provided options when my last IT contract ended. Now, this blog is my side hustle! (If you want to start your own, check out my instructions, and a great deal, here)
There are lots and lots of options out there for making a few (or a lot of) extra dollars from home. Many of which would be easy for you to do even if you're a stay at home mum, self employed or working in full-time employment.
Learning how to make extra money from home is something I'm very interested in and have been researching quite a bit lately. So, I thought I'd share with you the 21 articles I liked best out of the many, many blog posts and articles I've discovered online.
Some of the side hustle ideas are specific to working online, others are side jobs you can work on at home or in your local neighbourhood. Check them out. There's bound to be at least one idea that catches your eye and your imagination.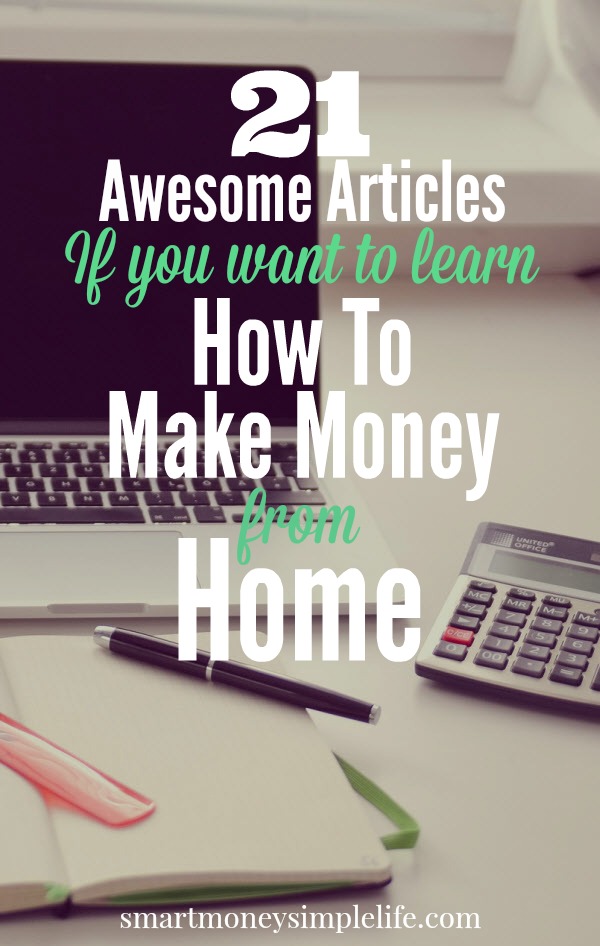 Pin
Learn How to Make Money from Home
11 Perfect (and Cheap) Business Ideas for Happy Introverts via Your Side Hustle Success
7 Ways to Make Money Online via Young Adult Money
10 Legitimate Ways to Earn Money from Home via Hip 2 Save
15 Smart Ways to Earn Money at Home via Living Well, Spending Less
14 Real Ways Homemakers Can Earn Money From Home via Pint Sized Treasures
5 Quick Side Hustles to Make Money Immediately via Your Side Hustle Success
35 Ways to Make Money for 2015! via Seed Time
50 Ways to Make Extra Money via The Work at Home Wife
50+ Ways to Make Money Fast by Side Hustling via The College Investor
52 Side Jobs You Can Start Today via Club Thrifty
60 Side Hustles and Counting… via Budgets Are Sexy
75+ Ways To Make Extra Money via Making Sense of Cents
79 Side Hustle Business Ideas You Can Start Today via Side Hustle Nation
114 Side Hustles: Ways to Make More Money via Broke Girl Rich
A TO Z List of Where to Find Work in the On-Demand Economy via The Work at Home Wife
Create Side-Hustle Income by Teaching What You Already Know via Entrepreneur
Extra Income via Single Moms Income
Make Quick Money With These 14 Side Gigs via I Need Money ASAP
Side Hustle Ideas: 35+ Ways Anyone Can Earn More Money On The Side via Money Under 30
Work that Side Hustle via The Budget Mama
Want to Pay Off Debt? 45 Honest Ways to Make Extra Money Online via The Penny Hoarder
Making a little money from home could be the perfect solution if your bills have suddenly gone up or your income has suddenly gone down.
With so many suggestions for making money from home, the really tough part will be deciding which one to try first!
You might also enjoy:
Have you tried making money from home? Which methods worked best for you? Just as important, which ones didn't work?
Image: Pixabay
Note: This post may include affiliate links.