Have you heard about hygge?
If you've spent any time on Pinterest lately, you'll know 'hygge' is everywhere.
Hygge is a Danish word (pronounced 'hooga') and roughly translates to 'cosiness'… and a whole lot more.
Luckily for us, hygge is no longer just a Danish phenomenon, thanks in no small part to this book: The Little Book of Hygge: Danish Secrets to Happy Living
 by Meik Wiking.
What is hygge?
According to Visit Denmark, "… hygge means creating a warm atmosphere and enjoying the good things in life with good people. The warm glow of candlelight is hygge. Friends and family – that's hygge too. There's nothing more hygge than sitting round a table, discussing the big and small things in life. Perhaps hygge explains why the Danes are some of the happiest people in the world?"
*** This post contains affiliate links. If you click a link and make a purchase, we'll receive a small commission (at no cost to you). Using these affiliate links is one way you can help support Smart Money, Simple Life. Support we truly appreciate. Thank you. ***
Add the Frugal Joys of Hygge to Your Life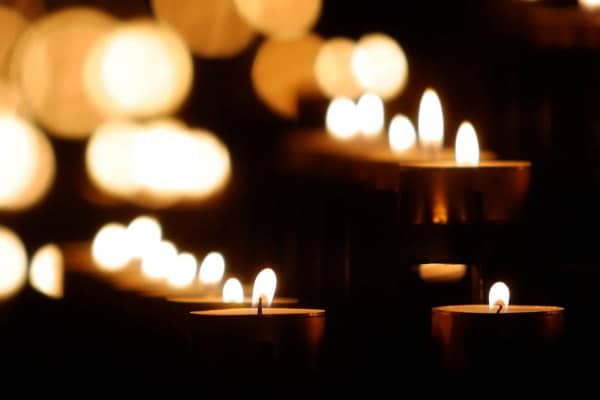 Candles and Soft Lighting
Create a relaxing hygge atmosphere by dimming the lights or lighting some candles.
By reducing the intensity of the lighting you not only create a cosy ambience, you also allow your brain to switch to relaxation mode.
If you're a bit cautious about using traditional candles, try flameless ones.
Hot Drinks
When we think of hygge we immediately think of the Danish winter and hot drinks that warm you down to your toes.
Imagine coming inside after spending time in the chilly air and wrapping your hands around a mug of hot chocolate or maybe some mulled wine. That feeling? That's hygge.
Of course, the warm weather version is sitting in the shade and enjoying a chilled glass of iced tea or freshly made lemonade.
Create a Hygge Nook
You don't need to go overboard with this idea. Just create a space that suits your relaxation style.
For me, that means a comfy chair, a foot stool, good light to read by, and a throw blanket in the cooler weather.
Your hygge nook doesn't even need to be inside. If the weather is good, create a space in the garden where you can either read, or sit and contemplate life while enjoying a refreshing drink.
Curl Up with a Good Book
One of the simple, frugal joys embraced by hygge is taking time away from the digital world and getting cosy with a good book.
Hygge is about family and friends but it's about taking care of yourself, too. For some of us, that means taking time out to be on our own so we can restore our energy levels.
Invest In or Knit Some Cosy Socks
Pulling on a pair of thick, knitted socks is the perfect way to signal to the world that you're officially in relaxation mode.
If you're inclined to DIY, knit your own. Try these 'toe up' socks.
Enjoy a Slow Cooked Meal
There's something very decadent about the aromas from a slow cooked meal. Even more delicious than the food, is knowing some of the best slow cooked meals are also the most frugal.
And, what's more comforting than nourishing food you know made the best use of your grocery dollars?
And, don't think your slow-cooker is only of value in the cooler weather, it can be a lifesaver when the weather is hot and steamy, too.
Need some new ideas for your slow-cooker menu? Check out our Crockpot/Slow-cooker Recipe Board on Pinterest.
Bake a Cake or Cookies
Sharing home baked goodies says 'cosy' in the best frugal way.
Spending a little time to bake a simple (or elaborate) cake to share with loved ones is one of life's true frugal joys and an excellent way to create hygge at home.
Relaxed Dining with Friends and Family
While you're prepping that slow-cooker meal, why not double the batch and invite friends or family over for an informal dinner. You could even go old style and host a potluck dinner.
DIY Spa Day
An important part of hygge is taking the time for self-care.
So, treat yourself to a DIY spa day every now and then. Allocate a chunk of time and use it to enjoy a relaxing bath (remember the bath salts!) or give yourself a pedicure.
The key aspect of this is the importance of self-care so choose an activity that suits you best.
Decorate with Fairy Lights
There's something very special about fairy lights. It might be because they have a fairy tale quality or it's just that they remind us of the holidays. Whatever it is, it means they add cosy with the minimum of fuss and expense.
Drag out the old Christmas lights and drape them around your bedroom.
String them through the trees in your garden or over an arbour or pergola if you have them.
Spend Time in Nature
Being in the elements is an important aspect of hyyge, too. It's not all warm blankets and roaring fires.
Hygge is also about slowing down and enjoying the simple things in life and one of the best, and most frugal ways, to do that is to take a walk outside. Or go for a bike ride.
Even if you don't have a park nearby, a stroll around your neighbourhood will do the job.
The Joy of Hygge
Sure, you can go out and buy a heap of 'hygge' accessories to add to your home but the real frugal joys of hygge, like all the simple pleasures of life, are not bought, they're made.
For me, hygge is about connections. Connecting with your loved ones, your community, the seasons and yourself. And, building rituals around those connections to support them.
None of these things requires a full wallet.
Just the commitment to spend some of your precious time on the stuff that really matters. To you.
Not convinced yet? Watch this…
I guarantee you'll love the ending. :-)
Your Turn…
Have you heard of hygge? What do you think: like it or think it's over-hyped?
Share your thoughts in the comments.
Oh and, remember to check out our Hygge board on Pinterest and follow us on Facebook!