Organize your pantry and watch life become simpler and less stressful.
Oh, and it'll save you money, too.
How? Simple… When you know what you have, you don't waste money buying groceries you don't need and you can make sure you use what you've already bought before it hits that sneaky use-by-date.
Being organized and creating a simple pantry system is even more important if you're also building a stockpile. You want to make sure every dollar you spend on food puts in a serious effort.
Read on for a few suggestions from bona fide experts, like Abby from Just a Girl and Her Blog (check out her new YouTube channel, Abby Organizes, too) you organize your pantry so it's efficient, economical and, let's face it, cute, too.
If you'd like to see even more gorgeous examples of pantries you're sure to want for yourself, check out our Pinterest board: Pantry Design and Organisation and be prepared for some serious pantry envy.
Organize Your Pantry
Who better to kick start this post on ways to organize your pantry than Abby. So, grab a cuppa and enjoy watching her tips for a beautifully organized pantry.
All great organization techniques start with a system. It's not just pretty containers and labels but knowing where an item belongs so you can always lay your hands on it when you need it.
Abby, of course, makes it look easy!
Under-Shelf Storage for Bread
Utilize this clever idea for keeping bread un-squished (yep, that's the technical term) and easily accessible at the same time.
Keeping sandwich and toast toppings nearby makes putting everything back where it belongs so simple there'll be no excuses for them cluttering up the bench top after breakfast.
Inexpensive Storage Bins
Storage bins are a simple way to keep like items together, even if they're small and fiddly. Or, if they are items you usually use together like baking supplies or herbs and spices.
You can usually pick up cute storage bins for just a few dollars, too.
Little Kid's (and Big Kid's) Lunch Prep Station
If you've got a busy household you might find a use for this lunch prep station idea.
An area like this would make preparing school and work lunches a very simple process and a definite time-saver. You'd just have to make sure good choices are available and they don't just take from the 'treat' section!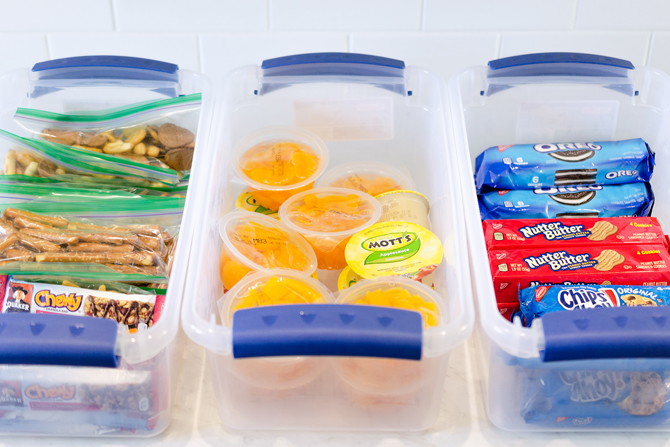 Re-purpose a Magazine Holder for Canned Goods
Magazine holders can be a cheap storage solution for lots of things, including magazines.
You can use them to store canned goods, like in the image below. Plus, you can attach one to the pantry door to store rolls of cling wrap, baking paper and tin foil.
Free Printable Labels to Help Organize Your Pantry
Ever been faced with three unlabelled jars of decanted dry goods and they all look the same?
Me, too!
Use these gorgeous labels to make sure that never happens again.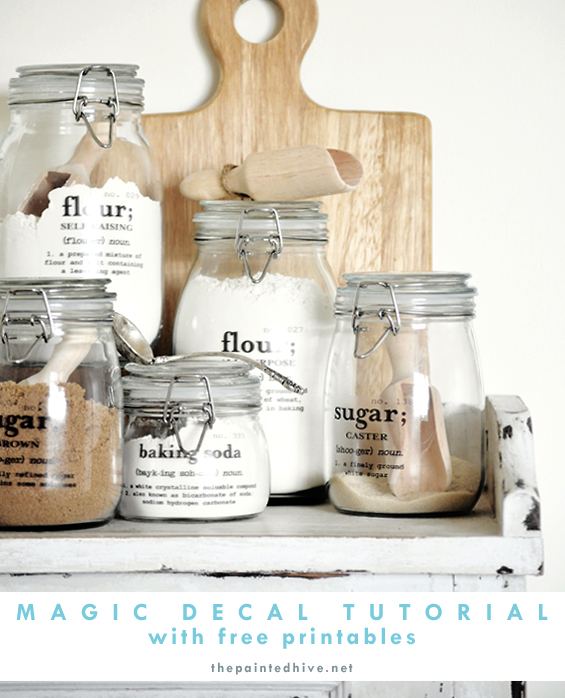 Magnetic Magic in the Pantry
Small magnetic jars and containers can be a real space saver in your pantry.
Nothing metallic to attach them to? Try fixing a metal tray or cookie sheet to the inside of the pantry door or a spare bit of wall space.
Pop over to Landee See, Landee Do to grab these free printable labels, too.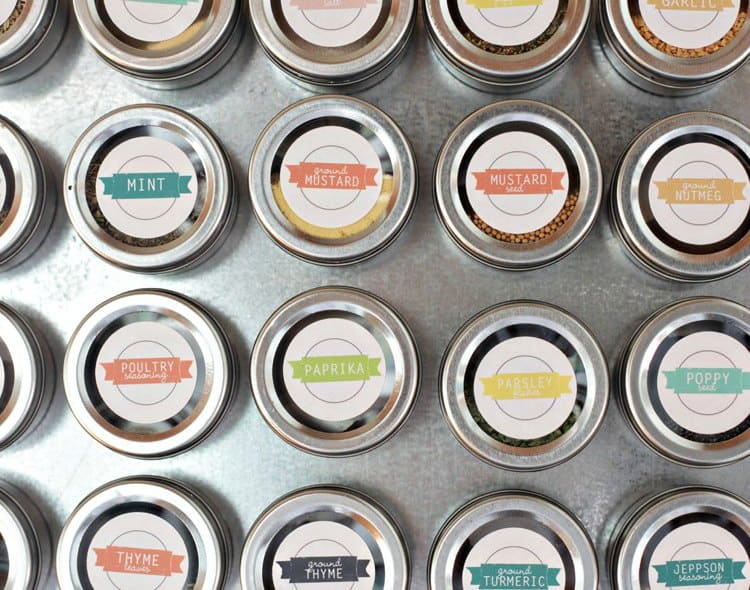 Make use of Floor Space
Make bulky or heavy items easy to access by putting rollers on wooden crates.
Easy access and no more strained muscles. Find out how by clicking the link below.
Organize Your Pantry Today
Why not give some of these ideas a try today?
You've probably already got a whole host of items that could help you organize your pantry. If not, get creative with cardboard boxes, like shoe boxes, and replace them with something prettier when you can.
Imagine how wonderful it will feel, knowing your pantry is organized and you can grab what you need with the minimum of fuss?
Got the organizing bug? Try 9 Home Hacks That Will Make You An Organization Genius
Pin
Remember to follow Smart Money, Simple Life on Pinterest and Facebook!
Pin