What are safe cleaning products?
They are cleaning products that are non-toxic and, in this article, also ones you can make at home. Without needing a chemistry degree!
Don't wait for spring cleaning time, start introducing these safe cleaning products into your regular cleaning routine.
And, let's face it, cleaning doesn't wait for spring, it's always on our list of chores. So, go a little bit green with your cleaning, save a little money and lower the number of toxic chemicals you use inside your home.
Plus, you don't need a huge range of products to have a clean home. Just a few basics like the ones listed here will cover all your cleaning needs.
Follow the links to the original sources and get the experts' step-by-step instructions for making your own frugal, green and safe cleaning products at home
Try them out and share your impressions in the comments!
Frugal and Safe Cleaning Products
| | |
| --- | --- |
| Natural Homemade Fabric Softener | Homemade Tub and Tile Cleaner |
| Natural Homemade Laundry Detergent | Non-Toxic Homemade Dish Detergent for Hand Washing |
| DIY Homemade Laundry Detergent Tabs | DIY Orange Cinnamon Cleaner |
| Homemade Stain Remover | DIY Toilet Bowl Cleaner |
For lots of ways to make the house you live in a home, check out thrifty ways to make your home more cozy and a great range of books to inspire your designer soul. Plus, there's a whole Pinterest board dedicated to Frugal Cleaning Tips you can follow.
Ingredients you'll need
*** This post contains affiliate links. If you click on an affiliate link and make a purchase, we'll receive a small commission at no cost to you. Every commission we receive helps to pay for all the little things a growing blog needs. So thank you! ***
Non-Toxic Homemade Dish Detergent for Hand Washing
Pin
Source: Bren Did
Homemade dish detergent, it might not be brightly colored but that doesn't mean it's not an awesome, non-toxic, way to easily keep your hands germ-free and your kitchen clean.
Natural Homemade Fabric Softener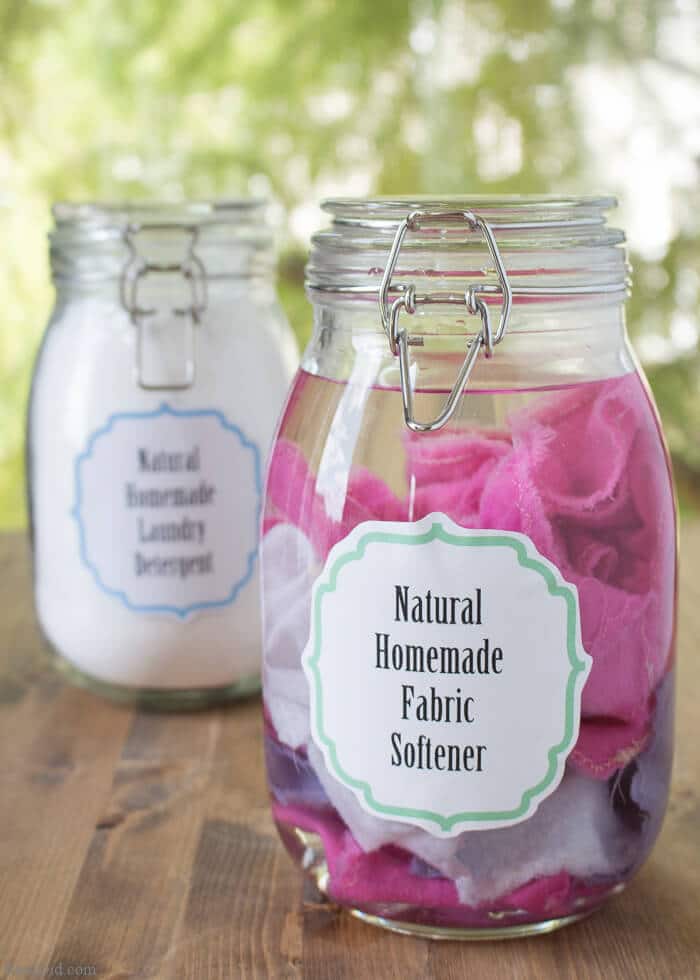 Pin
Source: Brend Did
Not everyone uses it, but if you're a fan of fabric softener, here's a clean, green and frugal option.
Natural Homemade Laundry Detergent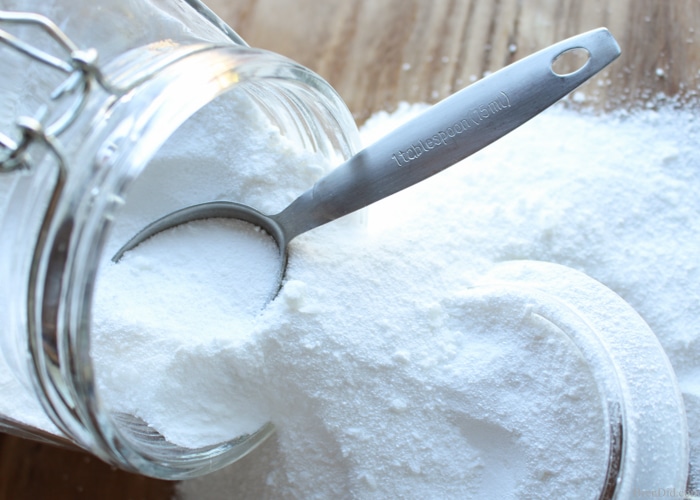 Pin
Source: Bren Did
According to Bren, this natural homemade laundry detergent makes 320 loads of non-toxic laundry detergent, costs less than $0.10 per load and rates an A on the Environmental Working Group (EWG) Healthy Cleaning scale.
Now that's frugal and safe!
---
Are you new to my blog? Smart Money, Simple Life aims to help you find ways to live your best life by being smart with your money and choosing to live life on your own simple terms.
One awesome way to build the life of your dreams is to do the work you love. For me, that's blogging. Blogging has opened up a bright new world I never knew existed and, it's helping me build an income I can rely on.
You can do it, too! Get started with here.
These are some of my favorite sites and products that can help you get started:
Start a blog. Blogging is a great way to share your unique insight with the world. It's also great for creating additional income. I make semi-passive income each and every month from my blogs and you can, too. Use my guide to create your own blog and you can start your blog for as little as the cost of a latte per month. Plus, sign up through my link and you get a free domain.
Pinterest. Pinterest is my favorite way to promote my blog and boost traffic. You can make pinning even easier if you use BoardBooster to schedule your pins. Use this link to sign-up for their free trial. If you want a simple graphics program to create your pinnable images, I highly recommend PicMonkey. It's easy to use – even for novice designers.
You can find more recommended resources here: Blogging Resources.
---
DIY Homemade Laundry Detergent Tabs
Pin
Source: One Good Thing by Jillee
If you love the convenience of detergent tabs, you'll definitely love these!
These are also a great idea if you have overly-enthusiastic helpers who think more detergent is better.
Homemade Stain Remover
Pin
Source: The Complete Guide to Imperfect Homemaking
Homemade Tub and Tile Cleaner
Pin
Source: Smart School House
If you've got kids, you know how quickly a bathtub can start looking decidedly gross.
Sometimes the grime is more soap scum than dirt but it still looks unsightly. Sort it, and the bathroom tiles, out with this green cleaner.
DIY Orange Cinnamon Cleaner
Pin
Source: Evermine
Citrus has always been a firm favorite in the world of frugal cleaning products, once you've tried this all-purpose spray, you'll understand why.
Not only will your surfaces be clean, your home will smell amazing!
DIY Toilet Bowl Cleaner
Pin
Source: Live Simply
An effective toilet bowl cleaner that's non-toxic and you can make at home? Who doesn't love that?!
Frugal and safe cleaning products
Cleaning: some people love it, some people hate it.
Unfortunately, you still HAVE to do it, so do it as cheaply as you can with as little toxic load on your family and pets as you can.
Lots of green and frugal cleaning tips are available on Pinterest that cover every cleaning need you can think of. So, if one of these products isn't what you're looking for, check out Pinterest for lots more options!
Any questions about these recipes? Ask away in the comments below!