Anyone who knows me, knows how ironic it is that I'm writing a piece about clothes, even if it is about the 10 item wardrobe and not what's trendy this season.
This is because I'm generally known for my casual approach to my wardrobe. My signature look is jeans and a t-shirt. That's been my look for, well… forever.
Two of my dearest friends studied fashion design. I went to art school. They were always dressed in handcrafted avante garde style. I was usually in thrift store jeans and t-shirts with the requisite ink and paint splatters.
Don't get me wrong though, I've always loved clothes. Classic styles and beautiful fabrics. Fashion? Not so much.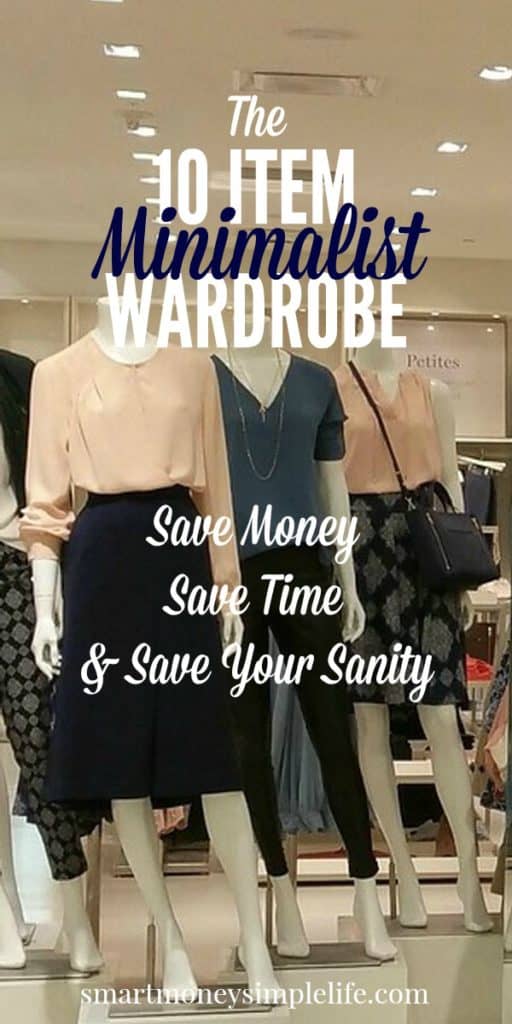 Pin
How does this relate to the 10 item wardrobe, not to mention frugal living?
When you focus on buying a few clothes that you love and are of excellent quality, you spend less on your wardrobe and each of those 10 items of clothing will look good for longer. And, you'll feel good wearing them.
A 10 item wardrobe = less stress
A minimalist wardrobe also has other flow on effects like less stress. Getting ready for work or to go out is much easier when you have fewer choices and those choices are easier to make.
Choosing an outfit is much easier when everything in your wardrobe coordinates perfectly.
Of course, coordinating perfectly doesn't mean wearing the same thing every day. You can create a coordinated uniform look that's not a uniform, although there are those who apply that approach to their work wardrobe.
A 10 item wardrobe =Â better quality
When you choose to buy only two or three items to add to your wardrobe each year, you can choose better quality and therefore higher priced items that will:
Fit better
Last longer
Feel wonderful to wear.
There was one thing Jennifer L. Scott (author of Lessons from Madame Chic : 20 Stylish Secrets I Learned While Living in Paris said in her TEDx talk that really struck a chord with me.
"It was one of the first times I realised I could respect myself enough to present myself beautifully at all time".
Too often, you'll find me sitting at my desk in a holey t-shirt. Or jeans with worn patches.
Working from home means I can dress as I please but Jennifer's comment made me think about how those tatty clothes are affecting my mindset. The quality of your clothes can reflect your state of mind. And, you're worth putting some time and energy into dressing well. This is something I plan to work on.
Prioritising quality doesn't mean your 10 item wardrobe is expensive
One of the biggest benefits of owning less stuff is; you know what you need. Knowing what you need means you shop with a plan. And, frugal folks always shop with a plan.
If you know you'll need a new coat next winter, you can buy it during the end of season sales. Or, you can start watching your local designer consignment or even thrift stores for the color and style you want.
Examples of a 10 item wardrobe
Splash of pink
This example is from The Vivienne Files and, although it's casual, it would be the perfect work wardrobe for every IT company I've ever worked. If jeans are inappropriate for your workplace, you could swap them out for slacks.
Neutral
This is a great example of a neutral pallet at work and was put together by Paris to Go. Neutral and monochrome, in well cut pieces and quality fabric never go out of style. If you want to liven up your look you can add a colorful accessory like a scarf or costume jewellery.
Creating your own 10 piece wardrobe
Here's the five step plan for putting together your own 10 piece wardrobe. Remember, 10 pieces is the aim but if your wardrobe is currently overflowing and you can only reduce it to 20 core pieces, that's a huge accomplishment.
So, the ideal is 10 pieces but it's about adopting a new way of looking at your wardrobe and you might need time to adapt to that new mindset.
STEP 1: Empty your closet.
Go through every single piece of clothing you own and ask yourself the following questions:
Does it fit me?
Is it age-appropriate?
Is it my innate style?
Do I love it?
Do I wear it?
If an item of clothing doesn't pass the test, get rid of it. Donate it. Sell it. Bin it. Whichever seems most appropriate. Get started by tossing these 10 things first.
STEP 2: Remove seasonal clothes.
If you won't be wearing it this season, for example, heavy sweaters or shorts. Store them out of sight.
STEP 3: Build your 10 item wardrobe with what's left.
Depending on the number of items remaining, you might need to separate them into categories (dresses, skirts, pants, etc) before making your final 10 (or 20) choices. As much as possible, choose classic styles in coordinating colors.
Jennifer's example of a women's 10 piece wardrobe is:
1 pair of slacks
2 pairs of jeans
3 dresses and
4 blouses.
If you find you can't choose between a number of items, use the reverse hanger method to determine what you actually wear. Put all the clothes back in your closet with the hangers reversed. When you wear an item, hang it back in your closet normally. Check back in a couple of weeks to see which hangers are still reversed. It's safe to say those pieces can go in the donate or sell pile.
STEP 4: Add the extras.
You can add t-shirts, sweaters, special occasion outfits, and accessories to your basic 10 item wardrobe but keep it simple. You don't need 15 t-shirts. These items don't count towards your ten pieces but don't go overboard or it defeats the purpose.
STEP 5: Always shop with a plan.
The 10 item wardrobe is about maintaining a minimalist mindset, so if you're shopping for clothes, always do so with a plan. You might only be able to stick to the 10 piece wardrobe for your work clothes and that's OK. What you learn along the way will begin to impact all your clothing purchases.
---
Are you new to my blog? Smart Money, Simple Life aims to help you find ways to live your best life by being smart with your money and choosing to live life on your own simple terms.
One awesome way to build the life of your dreams is to do the work you love. For me, that's blogging. Blogging has opened up a bright new world I never knew existed and, it's helping me build an income I can rely on.
You can do it, too! Get started with here.
These are some of my favorite sites and products that can help you get started:
Start a blog. Blogging is a great way to share your unique insight with the world. It's also great for creating additional income. I make semi-passive income each and every month from my blogs and you can, too. Use my guide to create your own blog and you can start your blog for as little as the cost of a latte per month. Plus, sign up through my link and you get a free domain.
Pinterest. Pinterest is my favorite way to promote my blog and boost traffic. You can make pinning even easier if you use BoardBooster to schedule your pins. Use this link to sign-up for their free trial. If you want a simple graphics program to create your pinnable images, I highly recommend PicMonkey. It's easy to use – even for novice designers.
You can find more recommended resources here: Blogging Resources.
---
What's next?
I gave my wardrobe a purge earlier this year but I'll be revisiting it over the next couple of weeks with a view to reducing it down to 10 core items. Realistically, there are many more pieces of clothing in my closet, taking up valuable space, that can go without me ever missing. I think I'm ready to test that hypothesis.
Could you do it? Could you reduce your wardrobe to 10 core items plus a few extras and not feel like you had nothing to wear?
I'm giving it a shot. How about you?
Related Posts:
Image: Pixabay
This post contains affiliate links.
Suggested Reading