October is my birthday month, and just like a change of season, a birthday month is the perfect time to reflect on recent lessons and give some thought to dreams and plans for the next 12 months.
The last 12 months have had their challenges, both personal and professional. But, you know what Neitzsche says: "that which does not kill us, makes us stronger". I'd like to think I'm becoming more resourceful and resilient. Taking charge of my life, and my lifestyle. It's tough sometimes. Life as a single parent remains challenging even when your child is at university.
No matter how many birthdays you're lucky enough to celebrate, there's always something new to learn; either about the world at large or ourselves.
Here are 10 things I learned this month:
1. Sunflower seeds germinate before your eyes
As I've mentioned before, I love to propagate plants. I propagate them for planting in my own garden and I sell the extras at my garden gate. One plant I've never grown before is the sunflower.
I figured I'd give them a try this season with the intention of planting them on the north side of my chicken run to provide some shade (I'm in the southern hemisphere), and then harvesting the seeds to add to their feed. Plus, I figure any additional plants can be sold.
Imagine my surprise when I checked the seeds two days after planting and they were already germinating. Talk about growing in front of your eyes! It looks like I'll be planting them out or selling them off in no time. Not only will I be saving money by contributing more home grown produce to our chicken's diet, I'll be adding money to the household budget. Can't beat that!
2. The Vampire Academy series sucks
It sucks if you actually plan on getting any work done between starting the first book and finishing the last: there are six in the series. I discovered the series when the movie came out. And, no, Vampire Academy  isn't War and Peace, but it doesn't need to be. What it has in abundance are characters you'll care about, having lots of life and death adventures. It's a lot of fun and escapism at it's best. Oh, and it's a great love story, too.
If you don't mind reading books aimed at older teens (I can't even begin to imagine what that says about me) you'll probably enjoy the series as much as I do. I'm still loving it and this is my third time reading the series. Just be sure to schedule your reading time or you'll get nothing done.
I also adore Richelle Mead's other series, Bloodlines and Age of X.
3. Pitching for freelance work is scary
I've started pitching for freelance work. Specifically, freelance work in the IT industry. It's pretty scary sending cold pitches but I figure it's probably best to start there than potentially burn bridges with the sites I'd ultimately like to write for on the web. Once I'm further through my course, I'll start pitching to those sites, too.
While I'd like to create a portion of my income from direct freelance work, my ultimate goal is to build this blog (and more) into a sustainable business that creates semi-passive and scalable income. So, freelance work isn't my first priority.
The other thing I'm learning… Cold pitching is definitely giving those resilience 'muscles' a workout.
4. There's always something more interesting to do than housework
Between being focused on building this blog, running my online business and getting sucked into the Vampire Academy world, there never seems to be any time or energy left over for housework. And, if I do have time and energy available, I go outside to the garden. Unfortunately, I've made the realisation my home is beginning to reflect that neglect.
I recognise this is something I really need to work on. That means making my home environment more of a priority than it has been lately. That's not to say there wont still be lots of things I'd rather be doing but I plan to be better at allocating the appropriate amount of time to housework. It'll always be a chore though. I don't think I'll ever be one of those people who loves housework. Ever.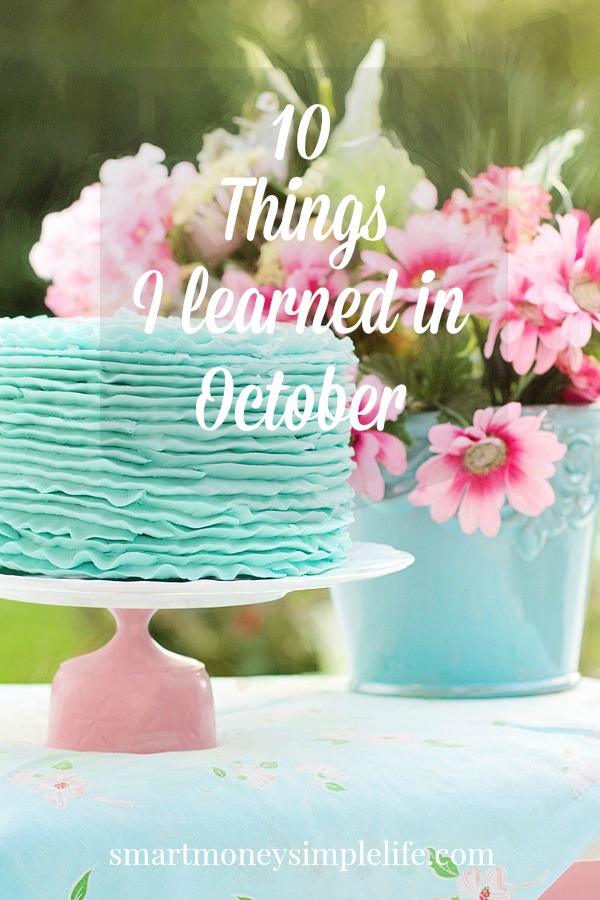 Pin
5. I'm still in love with my visual planner
I still love my visual planner and I still can't believe it took me so long to discover it. All those wasted diaries and planners… And, don't even start me on the money that's been wasted over the years.
Using this planner has opened my eyes to more possibilities, like project management. I have a couple of writing projects I'm working on and this approach is working brilliantly for them, too. I had been working with index cards but since swapping over to Post It notes with the outlines, it's all coming together much more easily.
Have you tried the visual planner yet? It wont work for everyone but if you're a visual learner or a creative thinker, you'll probably find it suits you perfectly.
6. When you lose your way it's important to go back to your why
When you lose sight of your why, it's very easy to end up going down the wrong path and discovering you're totally and irrevocably lost.
At least it can feel like you're irrevocably lost but in truth, if you know why you're on the road in the first place, it makes it much easier to get back on track. I've had to do that a few times lately. I've been caught up in things (activities and thoughts) that haven't served my why. The stronger my sense of why becomes, the quicker I notice I'm off course and can get back on track.
If you haven't seen this TED talk yet, I highly recommend it. It will definitely get you thinking about your own why.
7. Your productivity can make or break you
This is especially true when you work for yourself and when you work from home. This month I took on a big challenge: to build my blog and freelance income from (essentially) zero to $10,000 with 12 months. Yep. Big challenge!
That's going to mean making the most of every single day. There's no way I'll be able to get anywhere near that goal without making effective time management and productivity key parts of my life.
I'm not sure how I'll make myself publicly accountable to this goal yet. What do you think? A monthly update or quarterly? (Let me know in the comments.)
8. It's OK to admit defeat
It was during this month that I finally admitted to myself and the world that it's time to wind up my online business. It's been challenging me, in all the wrong ways, for nearly 18 months and it's time to admit I'm no longer passionate enough about it to keep it as my main business. But, I'll probably reduce the product lines to a few basics and keep it as a side hustle. One that brings in some extra income but doesn't consume my life.
And do you know what happened after I admitted defeat? I felt like a huge weight had been lifted from my shoulders.
9. Buy Nothing New Month is a snap when you're too busy to shop
It's not like I had the cash to go on any splurges. Not even for my birthday! I had planned to allow myself one exception to the no spending rule and treat myself to a trip to the cinema. I was even too busy for that. How sad is that?!
That's one of the reasons I could see how important it is for me to get my efficiency levels up. Big time. If someone who's favorite (anti-social) activity is watching a movie at the cinema can't manage it as a birthday treat. There's something very, very wrong!
It's a great way not to spend money though!
10. Golden Gaytime tub ice-cream isn't as good as the ice-creams on a stick
Buying ice-cream is a rare treat for us. From a frugal perspective, it's expensive and has no nutritional value at all. But… An ice-cream on a hot day is a lovely treat.
The Golden Gaytime is an Australian classic. Toffee and vanilla ice-cream with a coating of chocolate and sprinkled with biscuit pieces. It tastes divine.
Golden Gaytimes are my daughter's absolute favorite ice-cream. Nothing else comes close for her.
So, when Streets brought out Golden Gaytime in a tub, it seemed like a no-brainer. Unfortunately, it was a bit disappointing. Don't get me wrong, it was good. Just not as good as we'd hoped it would be. Looks like we'll be sticking to the original ice-cream on a stick.
This is probably the least important of the 10 things I learned in October.
Looking forward
I'm definitely looking forward to a bright and challenging year ahead. If all goes well, I'll achieve my big goal by the time my next birthday rolls around again. If not, I'm sure I'll have learned a lot more lessons along the way. Hopefully they'll be informative and positive. I'll just have to make the most of each day and see what happens.
What interesting things did you learn this month?
Images: Pixabay
Note: This post contains affiliate links.